Hot and Sour Soup
Hai Xian Suan La Tang
Cookbook
Published by Tuttle Publishing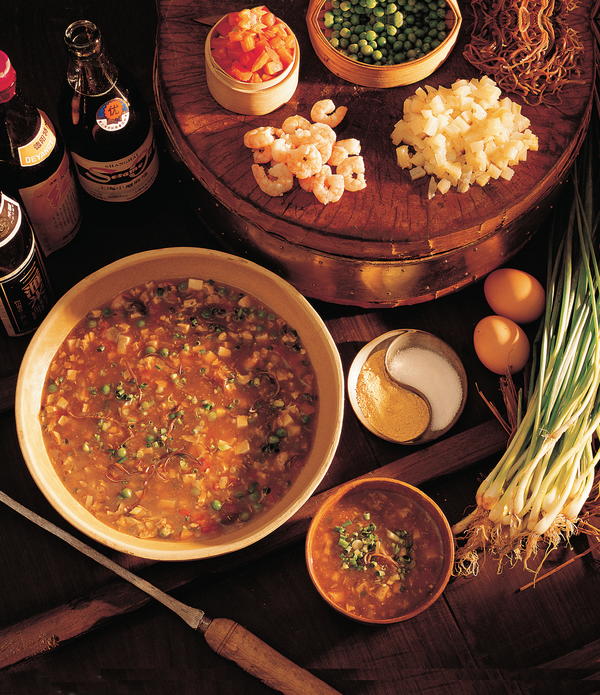 Hot and Sour Soup
This image courtesy of Luca Invernizzi Tettoni
Editor's Note: Hot and sour soup is a favorite Chinese dish, and now you can make it in your own home with this authentic Hot and Sour Soup recipe. This flavorful soup combines several types of mushrooms with tomatoes, peas, tofu, and a variety of traditional Chinese ingredients. Hot and sour soup can be made vegetarian by using vegetable stock in place of chicken, but it can also be bulked up for meat eaters by adding your protein of choice.  

This tangy Sichuan favorite combines tofu and dried mushrooms, but you can modify it by adding cooked shrimp, chicken or pork. Chili oil makes a nice condiment for this soup, and a touch of black vinegar or balsamic vinegar may be added when serving for extra zing.
Ingredients
4 cups (1 liter) chicken or vegetable stock
1 teaspoon salt
1 teaspoon sugar
1/2 tablespoon grated ginger
1/2 cup (60 g) fresh or frozen green peas
1 large tomato, diced
8 ounces (250 g) soft tofu, diced
4 large fresh shiitake mushrooms, diced; or 4 dried black Chinese mushrooms, soaked in warm water, stems discarded, and caps diced
2 dried wood ear mushrooms, soaked in water and thinly sliced (optional)
2 tablespoons soy sauce
2 tablespoons black vinegar
1 teaspoon sesame oil
1/2 teaspoon freshly ground black pepper
1/2 teaspoon ground Sichuan peppercorns or sansho pepper
2 eggs, beaten
2 tablespoons cornstarch blended with 2 tablespoons water
4 spring onions, sliced
Pinch of ground white pepper
Chili oil, to serve (optional)
Black vinegar, to serve (optional)
Instructions
Bring the stock to a ball in a large pot. Add the salt, sugar, ginger, peas, tomato, tofu, and mushrooms. Return to a boil and simmer for 3 minutes.

Add the soy sauce, vinegar, sesame oil, black pepper, and Sichuan pepper, and stir. Slowly drizzle the beaten eggs into the soup and let sit for 1 minute. Do not stir.

Stir the cornstarch mixture, then pour it slowly into the simmering soup while stirring gently.  Keep stirring until the soup thickens. Simmer for 1 more minute, then turn off the heat. 

Serve hot, garnished with spring onions and white pepper. Add a few drops of chili oil and black vinegar, if desired.
Copyright 2017 Kenneth Law, Lee Cheng Meng, Max Zhang
YOUR RECENTLY VIEWED RECIPES
Free recipes, giveaways, exclusive partner offers, and more straight to your inbox!