Easy Orange and Ginger Veggie Stir Fry
Cookbook
Published by Page Street Publishing Co.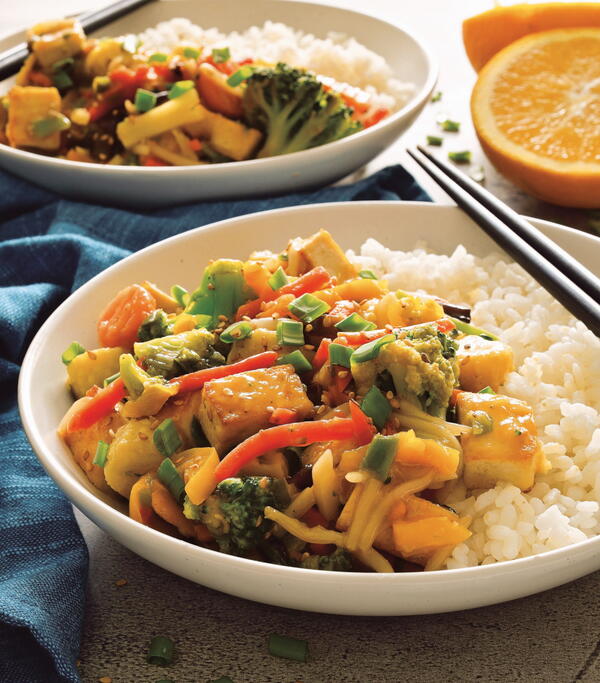 Easy Orange and Ginger Veggie Stir Fry
This recipe calls for a bag of frozen vegetables. Mixed frozen vegetables are real timesavers since they're already prepped and ready for the pan. Furthermore, they help reduce food waste because you don't have to worry about them going bad. It can be tricky to cook them just right, however, as they are easily overcooked and can turn to mush. If you're not yet convinced about frozen, feel free to use your favorite combination of fresh vegetables in this stir-fry.
Serves4

Ingredients
Rice or noodles, for serving
Sauce
1 cup (235 ml) fresh orange juice (from about 2 large or 4 medium oranges)
Zest of 1 orange (about 2 Tbsp)
3 tablespoons (45 ml) of soy sauce
2 tablespoons (26 g) sugar
2 teaspoons (10 ml) rice or apple cider vinegar
1 teaspoon (6 g) minced fresh ginger
1 tablespoon (8 g) cornstarch
Stir-Fry
2 tablespoons to 3 tablespoons (30 to 45 ml) neutral oil, for pan, divided
8 ounces (225 g) extra-firm tofu, drained and cubed
1 (16-ounce) [455 g] bag frozen mixed stir-fry vegetables (check that the veggies are not preseasoned with soy sauce or anything else. If you can't get a stir-fry mix, any mixture that looks good for a stir-fry is fine)
Salt (optional)
Optional garnishes: chopped green onion, sesame seeds, a drizzle of sesame oil, sriracha
Instructions
Begin by preparing your rice or noodles according to their package directions, to serve with the stir-fry. Once you start stir-frying, it all comes together quickly.

To prepare the sauce, in a bowl, combine all the sauce ingredients and mix well. Set aside.

For the stir-fry, to keep the frozen vegetables from going soggy, I recommend using a large, wide skillet rather than a wok, to have more surface area for evaporation.

Heat the pan over medium-high heat and heat 1 tablespoon (15 ml) of the oil. Add the tofu. Fry, flipping as necessary, until it's browned and crispy on all sides, about 5 minutes. Transfer to a plate.

Add the remaining tablespoon (15 ml) of oil to the pan and let it heat up until the oil sizzles. Another trick to avoid soggy vegetables is to fry in batches so as to not steam the veggies by overcrowding. Add half of the frozen vegetables to the hot pan and fry, stirring occasionally, until hot, crisp and somewhat seared, 2 to 3 minutes. Keep in mind that frozen veggies are already parcooked, so they may cook twice as fast as fresh vegetables.

Transfer the first batch of veggies to a plate and cook the second batch, transferring them to the same plate.

Lower the heat to medium. Give your sauce a stir and pour it into the pan. Simmer, stirring, until the sauce thickens, 2 to 3 minutes. Add all of the vegetables and the tofu back to the pan and toss to coat with the sauce. Taste and add a pinch of salt, if necessary.

Serve over the rice or noodles and with any optional garnishes of your choice.
Reprinted with permission from 30-Minute Frugal Vegan by Melissa Copeland, Page Street Publishing Co. 2019. Photo credit: Melissa Copeland
YOUR RECENTLY VIEWED RECIPES
Free recipes, giveaways, exclusive partner offers, and more straight to your inbox!