California Rolls
Cookbook
Published by Tuttle Publishing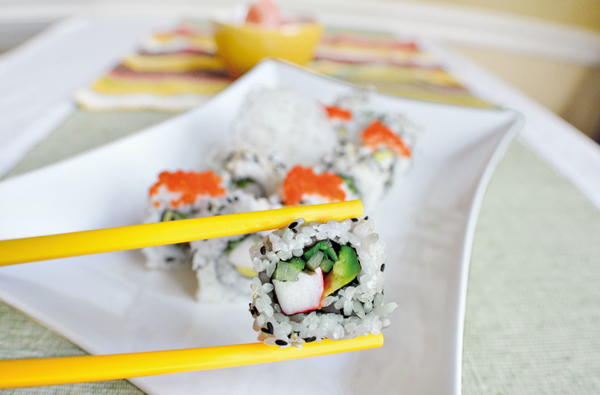 California Rolls
Sushi expert Trevor Corson reminds us that despite the name, the California roll was not originally created for American tastes. In the early 1970's, early sushi bars in Los Angeles catered mostly to traveling Japanese businessmen. When the fatty belly of bluefin tuna, toro, became scarce, one chef combined crab and avocado to create the feel of tuna belly on the tongue. The name California roll was given to honor the plentiful, local Californian ingredient—the avocado.
Makes2 rolls (16 pieces)
Preparation Time1 hr 40 min
Ingredients
1 1/2 cup (300 g) prepared Traditional Sushi Rice or Quick and Easy Microwave Sushi Rice (see below)
2 sheets nori (4 x 7 in/10 x 18 cm)
1/4 avocado, peeled, deseeded, and cut into 6 slices
1 English cucumber or Japanese cucumber, deseeded and cut into 4 in (10 cm) length matchsticks
2 imitation crab sticks
1 teaspoon sesame seeds, toasted
4 tablespoons capelin roe (masago)
Instructions
Place one sheet of the nori, rough side facing upwards, directly on a cutting board. The long end should be parallel to the bottom of the board.

Dip your fingertips lightly in cold water and spread ¾ cup (150 g) of the prepared Sushi Rice evenly over the entire surface of the nori.

Flip the nori over so that the rice is facing down. Place 3 avocado slices across the nori. (Place the fillings near the bottom for easier rolling.) Top with ½ of the cucumber matchsticks. Tear 1 imitation crab stick in half lengthwise. Place the torn pieces end to end over the cucumber. Sprinkle ½ teaspoon of the sesame seeds over the crab.

Wet your fingertips and slide your thumbs underneath the nori while grasping fillings with all your other fingertips. Roll the bottom of the nori just over the fillings, making sure to tightly tuck the fillings under the fold.

Continue rolling until the seam of the roll is on the bottom. With a bamboo rolling mat covered in plastic film wrap, gently shape roll by pressing your forefingers on top of the mat while simultaneously pressing your thumbs and middle fingers into the sides.

Repeat the steps to complete another roll. Place rolls seam side down on the cutting board before cutting into 8 pieces. Spread the capelin roe evenly across the pieces of sushi with a spoon. Serve immediately with soy sauce for dipping.
Copyright 2012 Marisa Baggett
YOUR RECENTLY VIEWED RECIPES
Free recipes, giveaways, exclusive partner offers, and more straight to your inbox!