Basic Sticky Rice
Learn how to make a classic Southeast Asian dish with this recipe for sticky rice (also known as sweet rice).
Cookbook
Published by Workman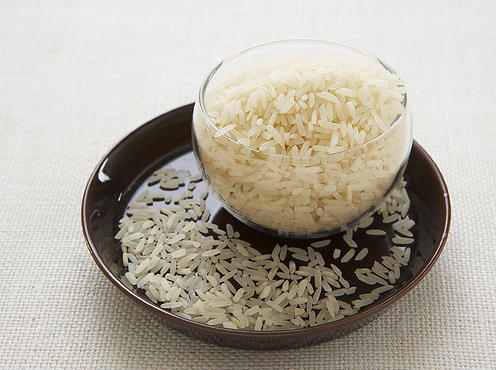 This image courtesy of Joseph DeLeo
Editor's Note: Once you master how to cook sticky rice, you will easily have a go-to side dish for just about any meal. Sticky rice is made from medium long grain rice that contains more starch, making it stick together. If you're purchasing rice to make this recipe at the store, look out for "glutinous rice" or "sweet rice".

If there is any one food that for us symbolizes the regional cuisines of Southeast Asia, it is sticky rice. It is the staple food, the staff of life, in Laos, northern Thailand, and northeast Thailand. It is also widely eaten in Cambodia, Vietnam, Yunnan, and other parts of Thailand, and it is often used for making sweets and ceremonial foods.

Sticky rice is medium to long grain and opaque white before cooking. It is a different variety of rice from jasmine, "sticky" when cooked because it contains a different form of starch (it is very low in amylose and is high in amylopectin). It is sometimes called sweet rice or glutinous rice. Sticky rice from Thailand is often sold marked pin kao, or with the Vietnamese term for sticky rice, gao nep.

Sticky rice is fun, liberating food. No utensils are needed. When it comes to eating sticky rice for the first time, children are usually better than adults; they have no problem eating with their fingers. For us, sticky rice is a way of eating, a way of organizing meals. To eat it, take a large ball of rice in one hand, then pull a smaller bite-sized piece off with your other hand and squeeze it gently into a firm clump. Then it's almost like a piece of bread: Use it to scoop up some salsa or a piece of grilled chicken.

To prepare sticky rice, you must first soak it overnight in cold water. It is then steam-cooked in a basket or steamer over a pot of boiling water. The long soaking gives the rice more flavor, but you can take a short-cut and soak it in warm water for just 2 hours.

People tend to eat a lot of sticky rice, or at least we do, and so do our friends, so we cook 3 cups for 4 to 6 hungry adults.



Serves6

Dietary ConsiderationVegetarian
Five Ingredients or LessYes
Ingredients
3 cups long-grain Thai sticky rice
Instructions
Soak the rice in a container that holds at least twice the volume of the rice: Cover the rice with 2 to 3 inches of room-temperature water and soak for 6 to 24 hours. If you need to shorten the soaking time, soak the rice in warm (about 100°F) water for 2 hours. The longer soak gives more flavor and a more even, tender texture, but the rice is perfectly edible with the shorter soak in warm water.

Drain the rice and place in a conical steamer basket or alternative steaming arrangement (see Equipment Note). Set the steamer basket or steamer over several inches of boiling water in a large pot or a wok. The rice must not be in or touching the boiling water.

Cover and steam for 25 minutes, or until the rice is shiny and tender.

If using an alternative steaming arrangement, turn the rice over after about 20 minutes, so the top layer is on the bottom.

Be careful that your pot doesn't run dry during steaming; add more water if necessary, making sure to keep it from touching the rice.

Turn the cooked rice out onto a clean work surface. Use a long-handled wooden spoon to flatten it out a little, then turn it over on itself, first from one side, then from the other, a little like folding over dough as you knead. This helps get rid of any clumps; after several foldings, the rice will be an even round lump.

Place it in a covered basket or in a serving bowl covered by a damp cloth or a lid.

Serve warm or at room temperature, directly from the basket or bowl. The rice will dry out if exposed to the air for long as it cools, so keep covered until serving.

In Thailand and Laos, cooked sticky rice is kept warm and moist in covered baskets.
Equipment Note
You will need a large pot for soaking the rice and a rice-steaming arrangement; there are several different options for steaming sticky rice. By far the best is the traditional basket and pot. If you can shop in a Thai, Lao, or Vietnamese grocery, chances are you can buy the conical basket used for cooking sticky rice as well as the lightweight pot the basket rests in as it steams. You can also buy the basket and pot by mail-order. This is the ideal equipment for cooking sticky rice—low-cost and made for the purpose. However, you can improvise by using a Chinese bamboo steamer or a steamer insert, or a large sieve. Line it with cheesecloth or muslin, place over a large pot of water, and cover tightly. The steamer must fit tightly so that no steam escapes around the edge and all the steam is forced up through the rice.
Back to Basics - More Basic Rice Recipes from Cookstr.com
Cooking with rice is crazy simple and super tasty. Once you master several kinds of rice recipes and prep, you'll be on your way to making yummy rice dishes.
2000 Jeffrey Alford and Naomi Dugid
YOUR RECENTLY VIEWED RECIPES
Free recipes, giveaways, exclusive partner offers, and more straight to your inbox!