The Olive Bar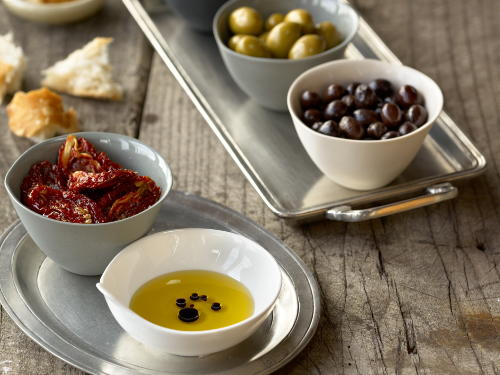 This image courtesy of Christine Schmidhofer
Editor's Note: An olive bar is an easy appetizer idea that's perfect for dinner parties or casual entertaining. It can be tough to choose what olives to include, or what other types of flavors should be on hand. This easy guide to olive bars will give you all the tips you need to create the perfect olive bar. Your hosting just got a lot easier!

Good supermarkets and virtually all respectable specialty food shops offer a plethora of olives—loose and in glass jars or plastic tubs—that can run the gamut from brine-cured to oil-cured, from luminous green to dull green and from deep black to a rather unnatural red. Assembling your own personal best olive bar will involve research and experimentation. Think of it in the same terms you do when designing a cheese platter: offer a range of textures, shades, and flavors along with accompaniments, like bread and good olive oil spiked with a few drops of your best balsamic vinegar for dipping, or sun-dried tomatoes and peppers, that compliment the true stars of the bar, the olives.
Tips
Brine-cured olives come in both of the standard olive colors, i.e. olive green and black, but oil-cured olives tend to appear only in black (these are the little shriveled ones that do not float in any liquid when you buy them). Oil-cured olives have a more concentrated flavor, because most of the non-oil liquid (water) has been evaporated. But brine-cured olives can pack a real wallop of a punch, depending on their country of origin (Spain tends to produce the punchiest) and the concentration of salt and other flavors in the brine.

If you end up with some brine-cured olives that are simply too strong, a quick soaking in cool water will tame their sharpness. Adding a curl of orange or lemon zest to a bowl of olives will brighten their flavor and color alike; soaking them in orange juice for half an hour (lemon juice is too acidic) will accentuate the citrus buzz. Drain before serving.

A relatively recent arrival in mainstream markets, the grass green superlarge olives called Bella di Cerignola can vary in quality from market to market. A good Bella is mild and meaty, an indifferent Bella from a less-than-obsessive supplier can be distinctly underwhelming.

There are quite a few olive varieties, with names like Manzanillo and Arbequina, but the variety does not influence the color. This is because all olives that are sold green are picked when they are still unripe; all black olives have been allowed to ripen on the tree before harvest.  The names you will be more familiar with, such as Niçoise, Kalamata, Picholine, and the super-mild and lushly meaty Luques, refer to the traditional color and curing style of the particular olive.

In California, a generations-old company called Graber markets their canned, luxuriously tender greeny-brown olives in several sizes (although the supercolossals are quite hard to come by). If you can lay your hands on some Grabers', be sure to add them to your olive bar—they have a mild style distinct from any other you are likely to come across.

A note about stuffed olives: I once ate a kilo of anchovy-stuffed olives, alone, in Spain. Although they are very, very tasty, I then took a two-year break. If you like powerful flavors, try olives stuffed with Gorgonzola, pickled garlic, almonds, minced smoked salmon, or the ubiquitous pimiento (although I believe this last is best saved for martini construction).

For some shapely excitement, punctuate your olive bar with a racy bowl of caperberries. And be sure to provide a small dish as morgue for the pits!

Lastly, the canned black-ripe olives available in every supermarket in the country have very little flavor but are superb for fitting onto the ends of all your fingertips and then nibbling off, one at a time (more a performance-art piece than a gustatory experience).
YOUR RECENTLY VIEWED RECIPES
Free recipes, giveaways, exclusive partner offers, and more straight to your inbox!