Spicy and Greasy Rhode Island Calamari
Cookbook
Published by W. W. Norton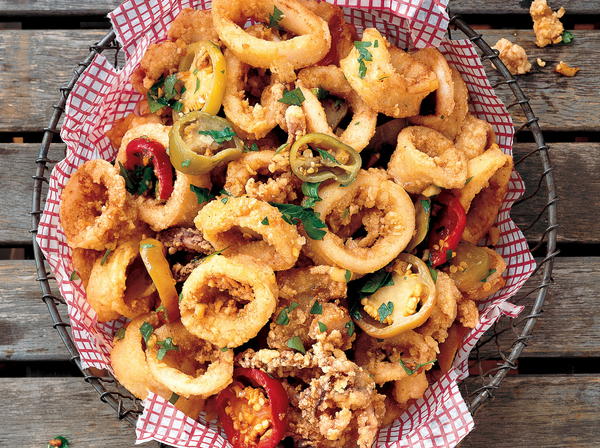 This image courtesy of Kate Sears/Sublime
Editor's Note: Get a whiff and feel for East Coast seafood with this delicious appetizer of fried calamari. Garlic butter and hot cherry peppers add a Rhode Island flair to this popular seafood appetizer, which can be served for a cocktail party, picnic or dinner for guests. Although known to be spicy and greasy, this Rhode Island-style squid has become popular all over the New England area. The largest squid-fishing fleet resides in Point Judith, Rhode Island. If you are lucky enough to ever eat a batch of this calamari, after being freshly caught from the waters off one of our smallest states of the region, you are in for an incredible treat.

If you think tossing crispy fried squid in a mixture of garlic butter and slices of hot cherry peppers is strange, welcome to Rhode Island! It's unusual but addictively delicious. In recent years, Rhode Island-style squid has gained popularity as a regional favorite all over New England. When I first started serving this dish at Summer Shack, we would hear complaints once in awhile that it was "spicy" or "greasy"—which it was. So I changed the menu and called it just that, "Spicy and Greasy Rhode Island Calamari," and I've never had a complaint since. Point Judith, Rhode Island, has the largest squid-fishing fleet on the East Coast; it is the hub of the squid business in the United States. The fleet follows the huge schools of squid all over the Atlantic, bringing them home to Point Judith for processing. The longest and best season is summer, but we see fresh squid periodically in the spring and fall too. When fresh squid is available, it is often reasonably priced, even when already cleaned. Frozen squid is available throughout the year, and its quality varies according to the packer and its place of origin. The most dependable brands are packed in Point Judith; you probably won't ever see the brand in a retail market, but you can ask your retailer. A lot of squid is imported from China, some of it good, some of it tasteless and rubbery. If you have a good fish market, it will most likely sell you domestic squid. If you run across fresh domestic squid, I highly recommend you buy it. Look for medium-sized squid (about 8 to a pound) for frying. Smaller squid are good for stuffing, larger ones for grilling.
Serves4 as an appetizer
Cooking MethodFrying, Sauteeing
OccasionFamily Get-together, Game Day
Dietary ConsiderationEgg-free, Peanut Free, Soy Free, Tree Nut Free
Taste and TextureButtery, Crisp, Garlicky, Herby, Hot & Spicy, Rich, Savory, Tangy
Ingredients
1 pound cleaned medium squid (4- to 5-inch), with tentacles
¾ cup cornstarch
¾ cup all purpose flour
½ cup yellow cornmeal
2 teaspoons table salt
½ teaspoon freshly ground black pepper
½ teaspoon cayenne pepper
About 6 cups peanut, canola, or other vegetable oil for deep frying
2 cups buttermilk
4 tablespoons unsalted butter
4 large cloves garlic, finely chopped
1 cup sliced hot cherry peppers in vinegar, drained
2 tablespoons chopped fresh Italian parsley
A baking sheet
4-quart Dutch oven
Deep-frying thermometer or an electric deep fryer
Chinese wire-mesh skimmer
10- to 12-inch sauté pan
A pair of tongs
Instructions
Cut the squid bodies into ½ -inch rings and put in a colander set over a bowl; add the whole tentacles. Cover and refrigerate until ready to use (up to 6 hours).

To make the fry mix: Combine the cornstarch, flour, cornmeal, salt, and both peppers in a large bowl and whisk well. Refrigerate if not using within an hour or two, to prevent humidity from changing the mixture.

Line a baking sheet with paper towels. Heat 3 inches of oil to 360°F in a 4-quart Dutch oven over medium heat or in a deep fryer.

While the oil is heating, pour the buttermilk into a large bowl and drop the squid into it. Stir with a Chinese wire-mesh skimmer to coat, then lift about half the squid from the buttermilk, allowing the excess buttermilk to drip back into bowl, and drop then into the dry mix. Rinse and dry the wire skimmer. Toss the squid to coat evenly with the mix, then lift them out with the skimmer, gently shake off excess fry mix, and transfer to a plate. Bread the other half of the squid. Rinse and dry the skimmer.

Heat a 10- to 12-inch sauté pan over medium heat and add the butter. Once it melts, add the garlic and sauté until golden. Add the drained cherry peppers and toss to combine. Turn the heat down to low to keep warm when you fry the squid.

When the oil is hot, carefully drop half of the squid into the oil. If any of the squid sticks to the bottom of the pot, loosen the pieces with tongs. Turn the squid occasionally so they cook evenly: it will only take about 1 ½ minutes until they are crisp and golden. Transfer the squid from the hot oil to the lined baking sheet. Fry the other half of the squid and drain them.

Add all of the fried squid to the hot pan with the garlic and sliced peppers, sprinkle with the chopped parsley, and quickly and gently toss (only twice) the squid. Divide among four small plates and serve immediately.
This squid can be cleaned if necessary and cut in the  morning, covered, and refrigerated. The fry mix can also be made early in the day.
2007 Jasper White
YOUR RECENTLY VIEWED RECIPES
Free recipes, giveaways, exclusive partner offers, and more straight to your inbox!