Shrimp and Sweet Potato Fritters
Cookbook
Published by Tuttle Publishing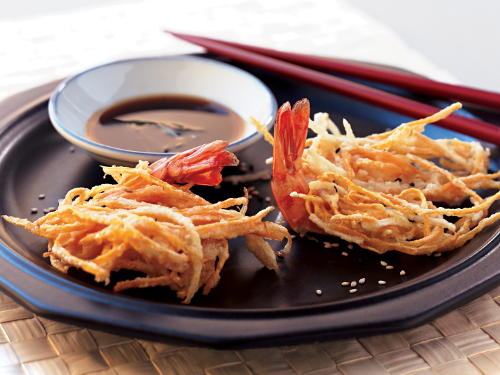 Shrimp and Sweet Potato Fritters
This is what I like to consider a bare-bones ukoy recipe upon which other variations are built. These fritters are light and crunchy with just barely enough batter to keep the sweet potato and cassava clinging to the shrimp. Other variations may include the addition of chopped green onions (scallions), bean sprouts, or water chestnuts mixed with flour and water into a pancake batter consistency. Such modifications detract from the crunchiness of the basic recipe, but the textural softening is replaced with heightened flavor. One key procedural note is to use a slicing tool that will cut long,  to 1-inch (13 to 25-mm) matchsticks of sweet potato and cassava. A  mandolin works beautifully to slice wiry vegetable threads that cook quickly into shoestring fries surrounding the shrimp.
Makes10 fritters
Ingredients
For the Fritters:
1 small sweet potato, peeled and cut into matchsticks (approximately 1 ½ cups/340 g)
1 small fresh cassava, peeled and cut into matchsticks (approximately 1 ½ cups/400 g)
½ cup (50 g) cornstarch
2 to 3 large egg whites
10 to 12 jumbo shrimp, peeled, deveined, and butterflied with tails left on
2 to 3 cups (500 to 750 ml) oil, for frying
For the Ukoy Dipping Sauce:
3 tablespoons soy sauce
½ teaspoon rice vinegar
1 teaspoon mirin
1 small clove garlic, minced
Instructions
For the Fritters:
Make the batter: Combine the sweet potato, cassava, and cornstarch in a large bowl. Toss the vegetables to evenly coat with the cornstarch. Add the egg whites little by little and mix with the vegetables until just moistened and gluey. The vegetables should be thick and sticky when pressed together.

Form the fritters: Sandwich the body of a butterflied shrimp in between two spoonfuls of sweet potato batter and press the fritter together. The tail should be left sticking out. Lay the formed fritters on a cookie sheet. Continue with the remaining shrimp. Chill the formed fritters in the refrigerator for 20 minutes before frying. This will allow the batter to firm so that it doesn't separate from the shrimp during cooking.

Fry the fritters: Heat the oil to 350°F (175°C) in a deep skillet. The oil should be 1 ½ to 2 inches (4 to 5 cm) in depth. Gently place 2 to 3 fritters in the oil and fry until golden brown on each side, 3 to 4 minutes. Dry on paper towels and serve immediately with the dipping sauce. Continue with the remaining ukoy.
For the Dipping Sauce:
Mix all the dipping sauce ingredients together in a small dish. Serve with ukoy.
Copyright 2015 Jennifer M. Aranas
YOUR RECENTLY VIEWED RECIPES
Free recipes, giveaways, exclusive partner offers, and more straight to your inbox!