Panfried Pork and Kimchi Dumplings
Cookbook
Published by Page Street Publishing Co.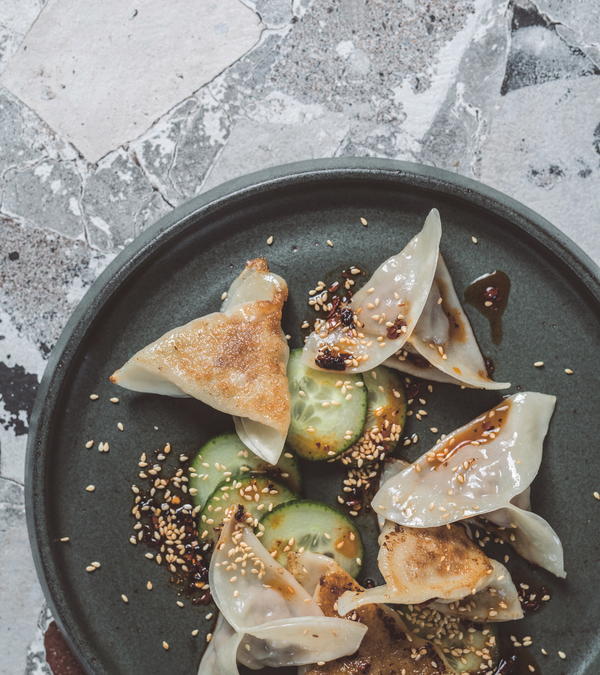 Panfried Pork and Kimchi Dumplings
In Korea, the standard dumplings filled with tangy spicy kimchi are known as mandu. I love Korean flavors, which is why I've tried to fuse some elements of both Chinese and Korean food into this book, and absolutely in these dumplings.

These dumplings are similar in concept to the Panfried Chicken and Cabbage Dumplings (page 51) that are infused with tart Chinese sauerkraut (suan cai), but have distinct flavor differences and are a twist on the conventional mandu. Kimchi has a more spicy, tangy and acidic flavor, whereas suan cai has no chile but an unmistakable sour bite.

Mandu, when fried, are often called gun mandu—you'll be gunning for these mandu!
Makes30 dumplings
Ingredients
Filling
3 1/2 ounces (100 g) firm tofu
5 ounces (150 g) fatty ground pork
cup (100 g) kimchi, finely chopped
2 green onions, finely chopped
2 tablespoons (15 g) finely grated fresh ginger
1 teaspoon sesame oil
1 large egg
1 teaspoon salt
30 Dumpling Wrappers (page 142)
Vegetable oil, for frying
Roasted Sichuan Chile Oil, for serving
Sliced cucumber, for garnish
Toasted sesame seeds, for garnish
Instructions
Make the filling: Drain the tofu and pat it dry with a paper towel. Stack three or four layers of paper towels on a plate and place the tofu on top. Stack another three or four layers of paper towels onto the tofu, followed by another plate and a few heavy cans of food to help press the tofu down. Refrigerate for 30 minutes to dry.

Remove the tofu from the refrigerator and transfer to a large bowl. Using your hands, break the tofu into crumbs. Add the remaining filling ingredients and stir until well combined.

Working with 1 dumpling wrapper at a time, place 1 level tablespoon (15 g) of filling in the center of a wrapper and shape into a triangle (see page 144). Cover loosely with a clean, damp tea towel and repeat the process to form the remaining dumplings.

Cook the dumplings: In a large nonstick skillet with a lid, heat 1 tablespoon (15 ml) of vegetable oil over medium-high heat. Working in batches, add the dumplings, flat side down. Press down firmly to flatten their base and cook, uncovered, until the base is golden brown, about 3 minutes. Add 1⁄2 cup (120 ml) of water to the pan and cover with the lid. Cook for 5 to 7 minutes. Remove the lid and continue to cook until the liquid has cooked off and the undersides of the dumplings are crisp again. If needed, add more oil to help crisp them up. Serve the dumplings immediately with Roasted Sichuan Chili Oil, cucumber and sesame seeds.
YOUR RECENTLY VIEWED RECIPES
Free recipes, giveaways, exclusive partner offers, and more straight to your inbox!