Guacamole
Cookbook
Published by Clarkson Potter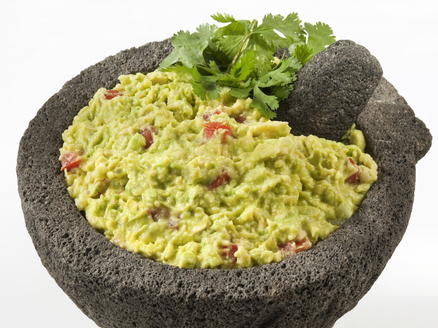 This image courtesy of Shutterstock
Guacamole is one of those popular Mexican foods that is easy to make and very nutritious. There are many versions in Mexico itself, like a delicious one with tomatillos and avocado leaf, as well as many distortions that find their way back to Mexico (like the version in My Mexico from Zacatecas with of all things sour cream!). Guacamole is often served alone or as part of a botana with totopos, to accompany tacos, or as part of that extravaganza of a dish, Carne Asada a la Tampiquena (The Art, see Notes). There is a lot of advice about how to keep guacamole from turning brown if it is not eaten when freshly made: by adding lime juice (which is not always appropriate), leaving the pits immersed in the mashed flesh, keeping it in an airtight container, and the latest foolproof one of pressing plastic wrap over the surface. (I shudder to think of the action of the fat of the avocados on the plastid) My advice is don't make it in advance. Have everything already chopped, crush the base ahead of time, and mash the avocados at the last minute in front of guests. Why not? But be sure you have a nice-size molcajete (see Notes) to do your show in style. Of course, the perfect guacamole has to be made in a molcajete so the flavors are intensified by the crushing of the ingredients-cutting them just isn't the same. But if you don't have one, you can blend the base of onion, chile, cilantro, and salt and then mash in the avocados to a rough texture; don't blend to a smooth consistency-texture means flavor! The recipe that follows is one that I first came across when I went to Mexico in 1957, and it seems to me to be a classic. One of the simpler northern versions with little wild chiles, onion, and lime juice is delicious, as well as the guacamole with the surprising combination of fruit, chiles, and avocado from Guanajuato (see notes). See the advice about buying avocados in advance (see notes) , and no sweet onions, please!

OccasionFamily Get-together, Game Day
Recipe CourseAppetizer, Side Dish, Snack
Dietary ConsiderationEgg-free, Gluten-free, Halal, Kosher, Lactose-free, Peanut Free, Soy Free, Vegan, Vegetarian
Taste and TextureCreamy, Herby, Savory
Ingredients
2 heaped tablespoons finely chopped white onion
4 serrano chiles, finely chopped (yes, seeds and all), or to taste
3 heaped tablespoons roughly chopped cilantro
Sea salt to taste
3 avocados, (about 1 pound/450g)
About ½ cup (125ml) finely chopped, unskinned tomatoes
¼ cup (63ml) finely chopped tomatoes
1 heaped tablespoon finely chopped white onion
2 heaped tablespoons finely (but not too finely, just prettily) chopped cilantro
Instructions
Put the onion, chiles, cilantro, and salt into a molcajete (see note above) and crush to a paste. Cut the avocados in half and, without peeling, remove the pit and squeeze out the flesh. Mash the avocado roughly into the base and mix well. Stir in the tomatoes and sprinkle the surface of the guacamole with the toppings. Serve immediately.
Molcajete and Tejolote
In my opinion this volcanic rock mortar and pestle is an indispensable piece of kitchen equipment for any cook, but primarily, of course, for aficionados-or professionals, for that matter-who pride themselves on their Mexican sauces (table sauces as opposed to cooked sauces). The qualities of a sauce prepared in the molcajete are incomparable: the flavors extracted from the ingredients crushed against the abrasive surface of the rock are more intense compared to those cut, however finely, with the blades of a blender. There is the added aesthetic pleasure of presenting a sauce in its most natural historical setting, for molcajetes, albeit in a slightly more rustic form, have been used from pre-Hispanic times.

Molcajetes are available in many sizes, from very large ones for restaurant use-about 15 inches (38cm) in diameter-down to the smallest (either for children or for simply crushing spices)-about 4 inches (10cm). The most useful sizes I have found are 5½ inches (14cm) in diameter for everyday sauces and 6½ inches (16.5cm), which, believe it or not, will hold enough guacamole for about eight servings.

The molcajete is in effect a bowl set on three sturdy legs hewn out of the same piece of black or gray volcanic rock. The quality varies considerably from closely, medium, or coarsely grained rock. The latter should be avoided simply because it is more difficult to clean. Neither should it be too porous, and you can test this before buying by adding water to see if it seeps out through the legs. Another test of the quality of the rock is to grind the surface with the tejolote: some dust should be loosened, but if there is too much then the molcajete will never be any good.

The tejolotes, or pestles, made of the same rock come in several shapes: stocky and blunt at both ends or like a blunt cone. When choosing one to go with the molcajete, make sure it is big enough for you to grasp firmly and grind efficiently.

Before using the molcajete, the inside of the bowl should be ground several times with the tejolote to smooth the surface. My very first teachers used raw rice for this, and I have continued to use it. Put a small handful of rice into the bowl of the molcajete and grind until you have reduced it to a grayish powder. Brush it out, rinse, and dry the surface before the second grinding. After three or four grindings the rice powder will not look so gray and that should do it. Of course, it is always preferable to get somebody else with a strong wrist to do this! (If your sauce or guacamole does at first seem a bit gritty you will only be ingesting some natural minerals!)

After use, I wash the molcajete using a brush and natural, unscented soap and let it dry well. With proper care it should last a lifetime!

Molcajetes of varying quality can be found in the United States in Mexican markets and large supermarket chains catering to a Latin American population. If you can't find one to your liking, given my norms, then tote one back next time you go to Mexico! You will never regret it. But don't lend it out and make sure the tejolote doesn't get thrown out with the avocado pits; I have lost several that way.
Aguacate (Avocado)
Avocados, or aguacate, must now surely be one of the most popular of foods worldwide-with obvious exceptions, of course. These fruits of a tree (Persea americana and var.) native to Mexico and Central America are almost synonymous with Mexican food. Rich in nonsaturated oils and vitamins A, B, and E, their qualities and flavor were appreciated and cultivated as early as 8000 B.C.

According to a Mexican botanist writing from the very early part of the 1900s (and for fifty years thereafter), there are twelve varieties of avocado in Mexico. However, many of these are no longer appreciated, owing to the introduction and wide distribution of the grafted Hass and Fuerte varieties from the large avocado-growing areas, principally Michoacan.

The typical aguacates criollos, or indigenous avocados, grown in semitropical areas vary slightly in characteristics; generally they have a thin, shiny, edible skin and a large pit surrounded by a thin layer of flesh. The flavor is incomparable: aniselike, nutty, and altogether delicious. The varieties with a skin that turns black when ripe are preferred over those with the green skin-referred to in Michoacan as blancos. The flesh, too, varies in texture: that of the former is more compact and oily while the latter is quite moist. Of course, there are always exceptions, but it would be unlikely to find these avocados in markets outside Mexico because once ripe they spoil very quickly. But make sure you try them when you go there! In the hotter lowlands of southeast Mexico you will find chinin, or chinene (Persea schiedeana), large, elongated, pear-shaped avocados with reddish dark-brown skin; in other areas there is also a roundish avocado with a shell-like skin called pagua. Both of these have a more compact flesh that is not as rich, which makes them more suitable for slicing rather than making guacamole.

When using avocados for either guacamole, a soup, or other sauces, it is best to buy avocados well ahead as it is rare to find perfectly ripe ones in supermarkets; from my experience they are as hard as rocks and need several days to ripen at room temperature. There are two things to avoid when buying: if the skin has separated from the flesh and if the pit rattles when the fruit is shaken.

Always buy more than you think you need; sometimes there are brown patches on the inside flesh, which will make your sauce bitter.

You need not peel a ripe avocado: just cut it in two, pry out the pit, and squeeze the flesh from the cut halves. For slicing into segments: make a vertical cut from the top to the stalk end through both the skin and the flesh, and loosen the segments with a small paring knife.
2003 Diana Kennedy
YOUR RECENTLY VIEWED RECIPES
Free recipes, giveaways, exclusive partner offers, and more straight to your inbox!