Curried Chicken in Radicchio Cups
Updated September 20, 2022
Cookbook
Published by Houghton Mifflin Harcourt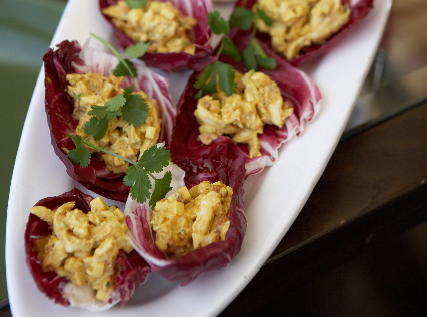 This image courtesy of Frankie Frankeny
When making hors d'oeuvres, chefs will sometimes use good-quality store-bought products for quick flavor. I love to spice things up with exotic combinations like hot Indian curry and sweet mango chutney. Here, they combine in an alluring sweet heat that delivers a delicious adventure in every bite. Almonds add crunch and a nutty flavor. Chicory balances the sweetness in the filling with a bitter bite. Some varieties of radicchio grow in a ball-shaped head that makes round lettuce cups, while the elongated Treviso variety, which looks like red Belgian endive, creates boat-shaped cups. You could use white or red endive, as well. If bitter flavors aren't your thing, use smaller leaves of red leaf or butter lettuce. What to drink: Choose a wine with plenty of body and a little sweetness, such as a Viognier or a Rosé.
OccasionCasual Dinner Party, Cocktail Party, Game Day
Recipe CourseAppetizer, Hors D'oeuvre, Main Course
Dietary ConsiderationGluten-free, Low Carb, Peanut Free, Soy Free
Taste and TextureCrisp, Fruity, Hot & Spicy, Meaty, Nutty, Savory, Sharp, Spiced, Tangy
Type of DishFirst Course Salad, Main Course Salad
Ingredients
2/3 cup slivered almonds
One 3-pound roasted chicken, at room temperature
1/3 cup mayonnaise, plus more to taste
1/3 cup plain yogurt, plus more to taste
½ cup mango chutney, such as Major Grey's, plus more to taste
¼ cup fresh lemon juice, plus more to taste
3 tablespoons Indian curry paste, as hot as you like (see Notes)
Dried cranberries, halved grapes, or chopped apples (optional)
Sea salt and freshly ground black pepper
2 medium heads round or Treviso radicchio
1 bunch cilantro, picked apart into small sprigs
Small bunches grapes, for garnish (optional)
Instructions
Preheat the oven to 350°F. Spread the almonds on a baking sheet and toast for about 8 minutes, until fragrant and golden. Set aside to cool.

Shred the chicken meat using two forks. Use a knife to cut pieces that don't shred easily. (Snack on or discard the skin and discard the bones.) Place the chicken into a large mixing bowl.

To make the dressing, pulse the mayonnaise, yogurt, chutney, lemon juice, curry paste, and almonds to a chunky texture in a food processor fitted with a metal blade. (Alternatively, you can mix this by hand, cutting up any large pieces of chutney, if needed.) Stir in the cranberries, if using.

Mix the dressing with the chicken, adding mayonnaise or yogurt if needed to generously coat the chicken. Season to taste with salt and pepper and additional chutney or lemon juice, if desired. (To make ahead, cover with plastic wrap and refrigerate for up to 3 hours.)

Cut the core from the radicchio and carefully pull apart the leaves. For the first few, you will need to roll back the edges to peel them off the head without tearing them. If you are using Treviso, cut off the bottom inch of the head and the leaves should easily fall apart. The larger leaves are best for plated presentations, while the smaller ones work well as finger food for hors d'oeuvres. Trim the largest leaves if needed to make them more manageable. (To make ahead, place in a resealable container with a damp paper towel over the radicchio, cover tightly, and refrigerate for up to 3 hours.)

To serve, spoon the chicken mixture into the radicchio cups and garnish each with a sprig of cilantro. After you have filled the leaves, stack any remaining ones, roll them up into a tight cigar shape, and cut crosswise into thin ribbons to use as a bed for your platter or entrée-size salad. Arrange the cups on the platter and garnish with additional ribbons of radicchio, cilantro sprigs, and small bunches of grapes, if you used them.
Notes
Skip a step and pick up a roasted chicken at your local market or poultry shop.

There are probably as many Indian curry combinations as there are regions in India--maybe more! Depending on the region, the blend might include garlic, ginger, coriander, cumin, tamarind, turmeric, fenugreek, coconut, cinnamon, or cloves. Tomato purée is sometimes added to bind the mixture. Kashmir curry from Northern India tends to be delicate and mild, while vindaloo blends Portugese and Indian cuisines with blazingly hot chiles and tamarind or vinegar. Many, many blends lie somewhere in between. You can make your own, but the prepared pastes make easy work of injecting complex flavor into a dish. Find a brand you like and experiment with different varieties; Patak's is a reliable one. If curry paste isn't available, substitute 1 tablespoon medium-hot Indian curry powder (such as Madras curry), adding a bit more mayonnaise or lemon if needed for additional moisture.
2008 Joey Altman
YOUR RECENTLY VIEWED RECIPES
Free recipes, giveaways, exclusive partner offers, and more straight to your inbox!