Crispy Spinach Mozzarella Sticks
Air fryer spinach mozzarella sticks are the irresistible appetizer you didn't know you needed.
Cookbook
Published by Page Street Publishing Co.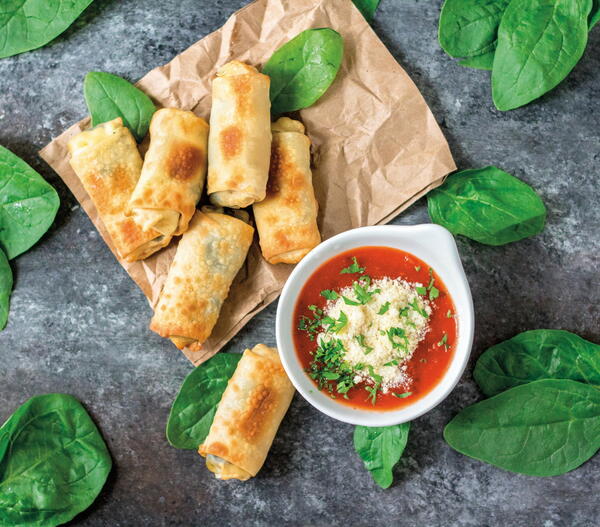 Crispy Spinach Mozzarella Sticks
Editor's Note: This take on traditional breaded mozzarella sticks is one we are totally on board with. Crispy egg roll wrapper mozzarella sticks get extra crunchy and delicious in an air fryer, and we love the idea of adding some spinach into the mix for extra flavor and color. This is one of those appetizer recipes that you'll be asked to make again and again. It's so creative, and the results are absolutely irresistible.

My husband and I used to frequent this cute little diner that served the best mozzarella sticks. The mozzarella sticks had spinach in them and were wrapped in crispy egg roll wrappers. When I got my air fryer, I knew these would be perfect to replicate at home. The air fryer makes the egg roll wrappers super crispy without actually frying them, the cheese inside gets all melty and delicious and the garlicky spinach puts a new spin on this classic appetizer. Since these cook up in minutes, you can make them anytime!
Yields12
Ingredients
1/2 tablespoon (8 g) butter or ½ tbsp (8 ml) oil of choice
2 cups (60 g) baby spinach, finely chopped
1 clove garlic, minced
6 sticks mozzarella string cheese
6 egg roll wrappers
Spray oil
Salt
Marinara sauce, warmed, to serve
Parmesan cheese, to serve
Instructions
In a small skillet over medium heat, melt the butter. Add the spinach and garlic and sauté until the spinach has cooked down, 5 to 8 minutes. Set the spinach aside to cool.

Meanwhile, cut each string cheese stick in half for a total of 12 short sticks.

Cut each egg roll wrapper in half for a total of 12 wrappers. Place ½ teaspoon of the spinach mixture on the short edge of the egg roll wrapper and spread it out thinly (but not all the way to the edges).

Place a cheese stick half on the egg roll wrapper next to the spinach. Fold in the sides of the wrapper and then roll up the egg roll lengthwise.

Spritz the air fryer basket with the spray oil and place the egg rolls in the basket, seam side down.

Spray the egg rolls with additional spray oil and sprinkle them with the salt.

Air-fry the mozzarella sticks at 375°F (191°C) for 7 to 8 minutes, flipping the mozzarella sticks once halfway through the cooking time. They should be brown and crispy. Serve the mozzarella sticks with warmed marinara sauce and Parmesan cheese for dipping.
Tip: These can be made in advance and frozen.
Reprinted with permission from The Big Book of Air Fryer Recipes by Parrish Ritchie, Page Street Publishing Co. 2020.
YOUR RECENTLY VIEWED RECIPES
Free recipes, giveaways, exclusive partner offers, and more straight to your inbox!