Calamari Fritti
Cookbook
Published by Harvard Common Press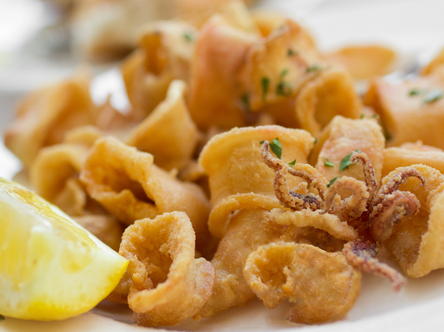 This image courtesy of Shutterstock
Editor's Note: Calamari fritti, also known as fried calamari, is a decadent Italian dish that makes an excellent appetizer for any dinner party. Crispy and savory, this filling beginner dish is excellent served with a fresh marinara sauce or lemon wedges. While guests might turn their noses up at the idea of eating squid, once they take a taste of this crunchy treat they'll be begging for more. The trick to making the perfect fried calamari recipe is to use fresh squid and cook it for just the right amount of time. Consider testing out a few small batches before frying all the squid you have on-hand to achieve a texture you love. Cooking calamari for too long can lead to a tough to chew and relatively tasteless meat.

There is no secret to making this extremely easy dish, which is an excellent antipasto or seafood course. The key is not to overcook the calamari or else it will become tough and tasteless. It should be tender and have its own flavor and not be covered with too much of a crust, which will pick up oil and make it taste greasy. The best way to ensure properly fried calamari is to maintain the temperature of the oil—370° to 380°F is best. Mixing a little cornmeal into the dredging flour adds crispness too.

Wine suggestion: Soave

If your fish market doesn't sell cleaned squid, here's how to clean it yourself. In a large bowl, soak the squid in cold water with a few ice cubes for 20 minutes. Then, holding the body of the squid with one hand, pull the head off with the other hand. Cut across the head, just above the eyes, and discard the part with the eyes and the innards. In the body part, a hard piece, the cuttlebone, will be protruding. Grab it and pull it out. The outside reddish skin of the squid is edible but can be removed if desired by pulling it off the main body.
Serves4
OccasionCasual Dinner Party, Game Day
Recipe CourseAntipasto/mezze, Appetizer
Dietary ConsiderationEgg-free, Lactose-free, Soy Free, Tree Nut Free
Taste and TextureCrisp, Salty, Savory
Ingredients
1 pound cleaned squid (see Notes)
5 tablespoons all-purpose flour
5 tablespoons semolina flour or stone-ground yellow cornmeal
2 teaspoons salt, preferably kosher
½ teaspoon freshly ground black pepper
3 to 4 cups peanut oil
Lemon wedges or 1 cup Marinara Sauce, for serving
Another Fried Calamari Recipe from Alton Brown
Looking for another way to fry squid? Check out this recipe from Alton Brown for Calamari Crunch. This recipe is breaded with rice krispies to achieve an extra layer of crunch.

Find out how:  Calamari Crunch
Instructions
Cut the squid horizontally into ½-inch-thick rings. Cut the tentacles in half lengthwise. Pat the squid dry with paper towels.

In a shallow bowl or a plastic bag, mix the flour, semolina, salt, and pepper. Add the squid pieces, and stir or shake to cover with the flour mixture. Remove the squid, shaking the excess flour off the pieces, and place them on a wire rack. Let them sit for 10 minutes (this allows the coating to adhere well).

Pour the oil into a large saucepan (it should be 2 inches deep) and heat until it registers 375°F on a deep-frying thermometer. Carefully add one-quarter to one' third of the squid pieces to the oil, without crowding them, and fry for 1½ minutes. Remove immediately with a slotted spoon and drain on paper towels. Let the oil temperature rise back up to 375°F, and repeat with the rest of the squid.

Serve immediately, with lemon wedges or a side dish of Marinara Sauce.
More Fried Seafood Recipes from Cookstr.com
Fried seafood recipes are a yummy way to enjoy fish, squid, clams, and more. The unique combination of crunch and seafood blends brilliantly. Whether you're hosting a fish fry or just want an impressive pre-dinner snack, these recipes are sure to impress.
2000 John Mariani and Galina Mariani
YOUR RECENTLY VIEWED RECIPES
Free recipes, giveaways, exclusive partner offers, and more straight to your inbox!