My Martini
Cookbook
Published by Agate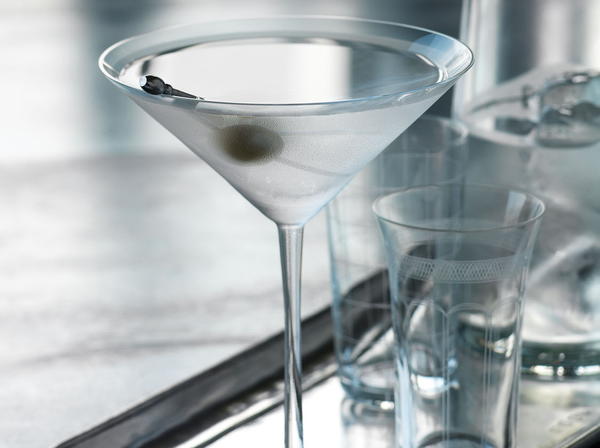 This image courtesy of Tim Turner
This is the violet hour, the hour of hush and wonder, when the affections glow again and valor is reborn, when the shadows deepen magically along the edge of the forest and we believe that, if we watch carefully, at any moment we may see the unicorn. But it would not be a martini if we should see him. --Bernard Devoto, The Hour My personal journey with the perfect Dry Martini has been a winding one. I passionately agree with William Grimes's assertion in his Straight Up or On The Rocks that the Martini is "the quintessential cocktail, the standard by which all others are judged:" The perfect Dry Martini is among the most disputed cocktails: shaken vs. stirred, gin vs. vodka, olive vs. twist, how much vermouth vs. not at all. Admittedly, what was once my perfect Martini has in fact evolved. Originally committed to shaken and only shaken, I have now moved my preference to gracefully stirred, and I now prefer considerably more French dry vermouth than I once did. In The Hour, DeVoto maintains, "There is a point where the marriage of gin and vermouth is consummated. It varies a little with the constituents, but for a gin of 95 proof and a harmonious vermouth it may be generalized as about 3.7 to 1:" This is a perfect proportion in my opinion. When ordering I do suggest, however, you consider rounding off to a ratio of 4 to 1; requesting fractions from a bartender may seem a shade arrogant. It is impossible to say which gin is ideal—this is a highly personal decision. I recommend you experiment to see what you enjoy most. My choice tends to be driven by my particular mood at the given moment: sometimes a big, robust, juniper-forward gin is ideal, but at times a softer, floral, fruity or feminine gin can be just right. Good fortune for us all that there are so many varieties to choose from, each creating its own special memory in the end.
NotesCocktail Glass:

What's a cocktail glass? Think Martini. Ever since the late 1980s arrival of the Martini craze, virtually anything served in a cocktail glass was referred to as a "Martini" of one kind or another, and since then, the glass has been known better by that name. In truth, there are countless versions of the cocktail glass. In my opinion, the classic rendering is a true work of art, but to each their own. I do think, though, a few rules should be followed when selecting a cocktail glass. First, it should be stemmed. Warm hands should never touch the cold bowl of a cocktail glass. Second, there is the question of size. For the record, a cocktail glass shouldn't be more than 6 to 7 ounces (180-210 ml) in size. The original Martini would have been served in a glass of 3 or 4 ounces (90-210 ml) at most. In the words of Harry Craddock in his Savoy Cocktail Book, "A cocktail should be short, and snappy" and it "should be consumed quickly while it's laughing at you!" I completely agree. No one needs to drink a 12-ounce (360 ml) Martini. Treat your cocktail glass with respect. Wash it properly, buff it with a linen towel, never handle it by the rim, and always chill before allowing it to greet your cocktail.



Total Timeunder 15 minutes
OccasionCocktail Party, Cooking for a date, Formal Dinner Party
Type of Dishalcoholic beverage, beverage, cocktails
Ingredients
¾ oz (22.5 ml) Noilly Prat dry vermouth
2½ oz (75 ml) gin of choice
1 large Spanish olive, stuffed with Maytag Blue cheese
Instructions
Fill a mixing glass with large cube ice. Add vermouth and gin. Stir until ice-cold, as my cousin Helen said. "20 times to the right and 20 times to the left." Strain into a chilled cocktail glass (see Notes). Garnish with a single May tag Blue-stuffed olive.
2010 Tony Abou-Ganim
YOUR RECENTLY VIEWED RECIPES
Free recipes, giveaways, exclusive partner offers, and more straight to your inbox!