Martini
Cookbook
Published by Agate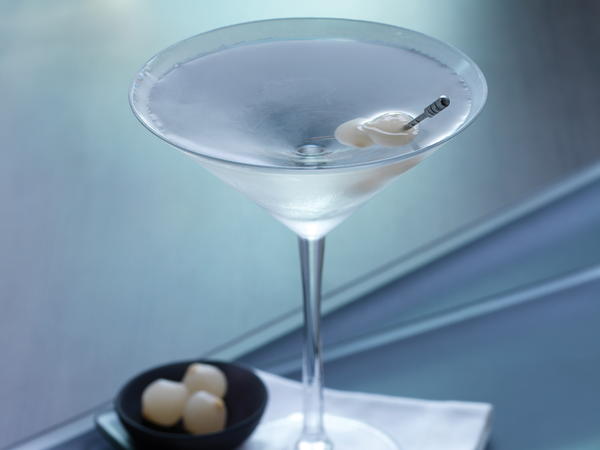 This image courtesy of Tim Turner
I certainly do enjoy drinking a vodka Martini, although I wish we could have named it something different entirely. For tradition's sake, I am more comfortable thinking of a Martini as being made of gin and dry vermouth. What's more-it may be my palate or simply a conditioned habit-I have never really felt that vermouth complements vodka, as vermouth most definitely is a soul-mate to gin. Hence when it comes to vodka Martinis, I generally recommend leaving the vermouth out all together. Also, I prefer mine stirred not shaken. All this is in direct contrast to the taste of the most iconic Martini drinker of all-007, James Bond. Still, I promote my personal preference. The famous British Secret Service agent's widely known inclination toward a medium-dry vodka Martini that is "shaken, not stirred" influenced an entire generation and beyond to want the same. I encourage you to experiment with both techniques to find yours. Staying true to my convictions, this recipe is conspicuously sans vermouth, as in my opinion it gets in the way of enjoying vodka's subtle nuances. This point magnifies the importance of paying attention to selecting vodka and garnish. Switch it up to complement the character of your vodka choice. Choose big, blue-cheese-stuffed Spanish olives with spicy rye-based vodka, or pair pearl onions with creamy, rich potato-based vodka; a twist of lemon or orange is perfect with a floral, fruit-forward selection. Consider also that sometimes "naked"-just you and the ice-chilled vodka-can be an exceptionally nice experience; aromatics, flavors, mouth feel, and character slowly reveal, each expression expanding and developing gradually as the temperature rises. If you already enjoy a favorite vodka neat at room temperature, chances are you will love it properly chilled and served in a beautiful cocktail glass. This Martini above all others supports the benefits of doing a blind tasting. I refrain from making a specific vodka recommendation in hopes you'll take III little time to research, taste a few, identify your style preference, and choose a favorite. Have fun!

Total Timeunder 15 minutes
Type of Dishalcoholic beverage, beverage, cocktails
Instructions
In an ice-filled (large, hard, dry, cold ice cubes) mixing glass add your favorite vodka; stir or shake until icy cold. Strain into a chilled cocktail glass. Garnish with your favorite accessory.
2013 Tony Abou-Ganim
YOUR RECENTLY VIEWED RECIPES
Free recipes, giveaways, exclusive partner offers, and more straight to your inbox!