Slow-Roasted Goat Leg with Harissa, Tomatoes and Onions
Cookbook
Published by W.W. Norton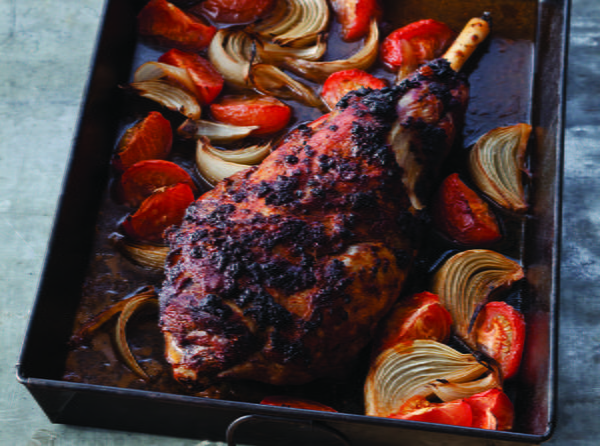 This image courtesy of Quentin Bacon
Editor's Note: You might not immediate think about goat recipes when you're deciding what to make for dinner, but once you learn how to cook goat, you'll be introduced to a whole new world of flavors that you never knew existed. This Slow-Roasted Goat Leg with Harissa, Tomatoes, and Onions recipe is a great introduction to cooking goat meat!
Goat, popular just about everywhere in the world, seems to be finally catching on with American cooks. Though authentic Indian, Mexican, and Greek restaurants have long had goat on their menus, I've been excited to see it appear at increasingly more restaurants, and not just those that classify as ethnic eateries. And all I can say is, "it's about time," as there is much to love about this delectable meat. For one thing, the dark meat has a wonderful flavor best described as that of dry-aged beef with a hint of lamb. It's not gamey, but slightly musky, mildly sweet and earthy. When roasted, goat delivers a richness that belies the fact that the meat is remarkably lean-leaner than chicken or beef and higher in protein than both. This leanness does, however, mean taking care not to dry the meat out when roasting. I solve this by first rubbing the meat with harissa (a North African olive-oil and chile puree), which flavors and lubricates the meat. Then, after an initial blast of high heat, the goat roasts slowly, surrounded by wine-moistened tomatoes and onions that make a delicious side dish right in the roasting pan. Before I was lucky enough to visit Tunisia, the only harissa I knew was the Morrocan version, a thin paste made from dried chiles, tomato paste, and salt, and while I relied on it to spice my tagines and couscous, it wasn't something I couldn't live without. In Tunisia, however, I fell head over heels for their version, a puree of sun-dried local chiles, freshly ground spices, garlic, and fruity olive oil that offers an amazing depth of flavors as well as a nice bit of heat. Though I packed a few jars in my suitcase to take home with me, it eventually ran out, leaving me to experiment with making my own. The flavor-and heat index-will vary according to the chiles you use. I like a combination of guajillo chiles and New Mexico or pasillas for a harissa with some heat, but not too much. The final flavor will depend a great deal on the quality of olive oil, so use the best you can. In addition to using the paste as a marinade for meat, try adding a spoonful to sautéed onions when making soups and stews, or whisk a bit into eggs before scrambling them. Sometimes I just smear a bit onto a crust of bread for a snack. If you're like me, you'll want to double the recipe to make sure you don't run out. In fact, I am so addicted to the stuff that I usually stock my refrigerator With both my homemade harissa and jars of my favorite brand from Les Moulins Mahjoub.
Serves4 to 6
OccasionCasual Dinner Party, Family Get-together
Dietary ConsiderationEgg-free, Gluten-free, Halal, Kosher, Lactose-free, Peanut Free, Soy Free, Tree Nut Free
Taste and TextureHot & Spicy, Meaty, Spiced
Ingredients
One bone-in goat leg (about 4 pounds; see Notes)
1½ tablespoons jarred or homemade Tunisian-Style Harissa (recipe follows)
1½ pounds small ripe tomatoes (such as Roma), cored and cut into quarters
3 small onions (about 12 ounces), peeled and cut into ½-inch wedges
6 garlic cloves, peeled
2 tablespoons extra virgin olive oil
Kosher salt and freshly ground black pepper
¾ cup dry white vermouth, dry white wine, or water
2 ounces of dried chiles, preferably a mix of guajillo and New Mexico or pasillas
1 teaspoon coriander seeds
½ teaspoon cumin seeds
¼ teaspoon caraway seeds
2 garlic cloves, coarsely chopped
¾ teaspoon kosher salt
3 tablespoon extra-virgin olive oil, plus more as needed
Instructions
Trim and Season the Goat: Using a sharp, narrow knife (a boning knife or paring knife) and your hands, peel and trim away the leathery membrane, known as caul, and any thick patches of fat. Don't worry about trimming off every last bit of fat (goat is quite lean and will benefit from a little fat), but you do want to remove any tough caul membrane that pulls away in sheets to expose the meat below. Smear the harissa over the entire surface of the meat. If seasoning ahead, cover loosely with plastic wrap and refrigerate for 6 to 24 hours. Let sit at room temperature for about an hour before roasting.

Heat the Oven: Position a rack in the lower third of the oven and heat to 425 degrees (400 degrees convection).

Season the Vegetables: Combine the tomatoes, onions, and garlic in a bowl. Add the olive oil, season with salt and pepper, and toss to coat. Set aside.

Roast: Place the goat in a roasting pan just large enough to hold it, and slide it into the oven. After 15 minutes, slide the oven rack holding the roasting pan out and tip the vegetables into the roasting pan, scattering them around the meat. Pour the vermouth (or wine or water) over the meat, and slide the rack back in. Close the oven, and reduce the temperature to 275 degrees (250 degrees convection). After 30 minutes at the lower temperature, baste the meat with the pan juices and stir the vegetables; do this again every 20 minutes or so, flipping the leg over after about 1 hour at the lower temperature. Continue roasting, basting, and stirring, until an instant-read thermometer inserted into the thickest part of the leg registers about 150 degrees, about 1 hour more.

Rest: Transfer the meat to a cutting board, preferably one with a trough, and let it rest for 20 to 30 minutes. Stir the vegetables, scraping the roasting pan to capture any roasted-on bits. Taste the vegetables for salt and pepper, and keep warm until serving.

Carve: If you've ever carved a bone-in leg of lamb, you are on familiar ground here.

Start by grabbing hold of the shank end (the narrow end) of the leg with your hand or a clean dish towel. Now, either carve thin lengthwise slices of meat from the roast, or, my preferred method, carve off large chunks of meat by sliding the knife as close to the bone as possible and then slice those chunks crosswise into thin slices. This method may look less dramatic and give you smaller slices, but it ensures that you carve the meat across the grain (which means more tender bites) and gives a better mix of doneness, as each slice contains some of the outside and inside of the roast.

In most cases, whole goat legs have the pelvic bone intact (this is the convoluted bone that runs laterally at the wide end of the leg). Even the most expert carvers have trouble getting around this bone, so simply do the best you can.

Serve: Transfer the sliced goat to a carving platter or individual plates. Surround with the tomatoes and onions and spoon any carving juices over the top.

Soak the Chiles: Put the chiles in a medium bowl and cover with boiling water. If the chiles float, weight them down with a small plate. Let them sit until softened, about 25 minutes.

Toast the Spices: Combine the coriander, cumin, and caraway in a small, dry skillet and heat over medium, shaking the pan to prevent burning, until fragrant and beginning to color, about 2 minutes. Transfer to a mortar or spice grinder, let cool, and grind to a fine powder.

Make the Paste: Outfit a food processor with a chopping blade, and, with the motor running, drop the garlic cloves into the feed tube. Process until finely minced. Drain the chiles, and tear them into medium-small pieces, removing and discarding the seeds and stems. Add the chiles to the food processor along with the ground spices and the salt. Process, stopping to scrape down the sides, to make a course puree. Add the olive oil, and process briefly to incorporate (avoid overworking the olive oil, as that can turn it bitter).

Pack in a Jar: Transfer the paste to a clean glass jar-the paste may discolor plastic containers-packing it down with a small rubber spatula. Pour a thin layer of olive oil over the surface (this preserves the flavor and color). Put a lid on the jar, and refrigerate for up to 3 weeks. Top off with olive oil after each use.
Notes
Method: Combination high and low heat

Plan Ahead: For best flavor, season the goat 6 to 24 hours before roasting.

Wine: Young fruity Monastrell from Spain's Jumilla region.

 
Shopping for Goat:
Most goat meat should technically be called 'kid" (or baby goat) meat, since it comes from animals no more than 2 to 3 months old. (Meat from older animals would be too tough and lean for roasting.) Spanish markets use the term cabrito to designate young, milk-fed kid, while in Northern Europe, chevron is the term for young goat. Regardless of the name, you can tell that you're getting a young animal if the leg weighs in at less than 5 pounds. Look for goat at the farmers' market, ethnic meat markets (especially Middle Eastern stores), and specialty butchers. It's also available from several on-line suppliers. You may find goat meat that is sold frozen, which I've never had any complaint with. Just be sure to allow 2 to 3 days for the leg to defrost, in its original wrapping, in your refrigerator.
If you do buy a fresh leg of goat from a full-service butcher, ask them to remove the pelvic bone. This complicated piece of the hip bone sits at the wide end of the leg and interferes with carving. Getting it out of the way before roasting is by no means essential, but it does make your life easier. If you do manage to get a leg without the pelvic bone, there will be a loose flap of meat where the bone once was. Secure this with kitchen string tied lengthwise, and then in several smaller loops around the wide end of the leg.
2011 Molly Stevens
YOUR RECENTLY VIEWED RECIPES
Free recipes, giveaways, exclusive partner offers, and more straight to your inbox!