Mark Scarbrough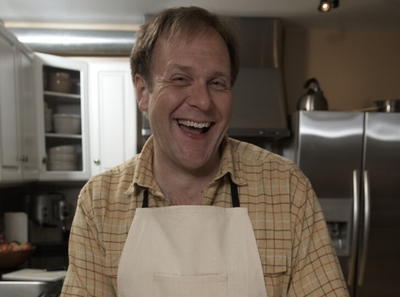 Did you know?
While on the tenure track at Saint Edward's University in Austin, Texas, Mark took a writing job providing food content for a small Internet start-up in Phoenix, Arizona. The start-up? America Online. Shortly thereafter, he moved to New York City and left academia behind.
Mark Scarbrough is a cookbook author, journalist, recipe developer, columnist and food writer who, with his partner Bruce Weinstein, is author of the eleven-volume Ultimate cookbook series, as well as more than a dozen other books.
Mark and Bruce's books include The Complete Quick Cook, Pizza: Grill It, Bake It, Love It, Ham: An Obsession With The Hind Quarter, and Cooking Know-How. Other books are The Ultimate Cook Book: 900 New Recipes, Thousands of Ideas; The Ultimate Ice Cream Book; The Ultimate Party Drink Book; The Ultimate Candy Book; The Ultimate Shrimp Book; The Ultimate Brownie Book; The Ultimate Potato Book; The Ultimate Muffin Book; The Ultimate Chocolate Cookie Book; The Ultimate Frozen Dessert Book; and The Ultimate Peanut Butter Book. They also collaborated on Cooking for Two; Grilling Essentials; The Stonewall Kitchen Cookbook; and Dr. Phil's Weight Loss Solution Cookbook.
Mark and Bruce are contributing editors to Eating Well and columnists for weightwatchers.com. They contribute regularly to Cooking Light, Fine Cooking, the Washington Post, and other publications. They also teach cooking on Holland America cruise ships. They often are guests on The Today Show, CBS This Morning and The View, to name a few.
Mark is from Texas and Bruce is from New York City. Both appreciate the food of their childhoods—barbecue for Mark, pastrami or corned beef sandwiches for Bruce—and neither was willing to give up the foods that they loved. Their solution? "Learn to eat more healthfully in a way that includes just about all the foods we like."
Their most recent book, Real Food Has Curves, tackles how to eat healthfully and sensibly without going crazy—or as they say, it is "A step-by-step plan to get all the chemicals out of your diet, to find satisfaction more quickly at the table, and to return food to its pure, elemental pleasure without resorting to the rigors of a raw food diet or any quasi-scientific shenanigans."
Mark did his graduate work in American literature at the University of Wisconsin; for three years, he was the department's lecturer for its 1000-student, introductory courses. His lectures proved so popular, they were picked up by a local PBS station.
In 1997, with optioned screenplays and a syndicated food/travel column in alternative newspapers (Out in the World), Mark moved to Manhattan to pursue writing full-time. Once there, he teamed up with Bruce and the partnership was born.
Before they moved to the Connecticut countryside, Mark and Bruce lived a few blocks from New York's Chinatown, which "spoiled us rotten."
Today, Mark and Bruce live in rural Litchfield County, Connecticut, with their collie, Dreydl. His and Bruce's blog is http://www.realfoodhascurves.com/
Cookbooks, etc