Brigit Binns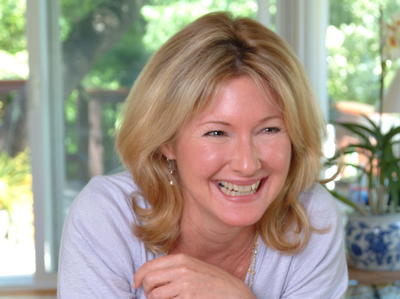 Did you know?
When Brigit and her husband, actor Casey Biggs, relocated to California's central coast wine country Casey promptly (and accidentally) became the viral Youtube sensation "Paso Wine Man," who advocates for the fast-growing wine region.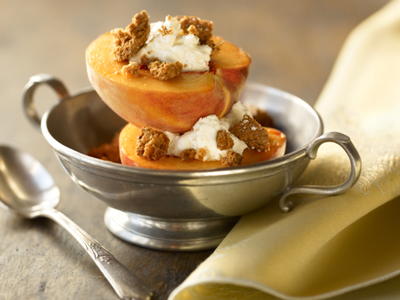 Brigit's Featured Recipe
Fresh Peaches Stuffed with Mascarpone and Macaroons
Brigit Binns is the author or coauthor of 26 cookbooks and editor of more than 40 (eleven of her books were for Williams-Sonoma). She has collaborated on books with some of the country's most respected chefs, including New York's Michael Psilakis and Los Angeles' Joachim Splichal. She adapted all the recipes for Chef Psilakis book, How to Roast a Lamb: New Greek Classic Cooking, nominated for a James Beard Award. Her collaboration with San Francisco butcher Ryan Farr (the "King of Meats"), Whole Beast Butchery was also nominated.
Her next book The NEW Wine Country: Recipes from California's Central Coast, will be released this spring. In the fully photographed book, she writes a love letter to the wine, food, and pioneer spirit of the fastest-growing wine region of her home state.
Her most recent book, Williams-Sonoma's The Cook & the Butcher, has gained widespread critical acclaim. Other recent books include the these four Williams-Sonoma titles:The NEW Slow Cooker, Pizza, Small Plates, Salad, and Bride & Groom Entertaining. She also created 150 original recipes for the Tavern on the Green Cookbook.
Other books include: The Low-Carb Gourmet; The Palm Restaurant Cookbook; Cuisine Naturelle (coauthor) and Cowboy Cocktails (coauthor). Brigit's memoir-cookbook The Relaxed Kitchen: How to Entertain with Casual Elegance and Never Lose Your Mind, Incinerate the Soufflé, or Murder the Guests chronicles her disastrous early dinner party mistakes—and how she learned from them.
She received a B.A. in Chinese studies fromLewis & ClarkCollegeand also studied atGeorgetownUniversityin D.C.,SoochowUniversityinTaipei, and the Monterey Institute of International Studies. During 10 years living in Europe, she graduated fromEngland's Tante Marie cooking school, owned a catering business in southernSpain, and edited the English-language magazine ofSpain's Mediterranean coast.
Brigit has traveled extensively in Italy, France, Spain Britian and the interior of the U.S.. She was the author of the now-retired blog called Roadfoodie (named one of the best food and wine websites by the Huffington Post), and now writes The Crispy Bit blog, which explores all the crispiest bits of life, edible -- or not. She has been published in Saveur, Food & Wine, and Variety, among others.
Brigit lives on the central coast of her beloved home state, California. www.brigitbinns.com