Yogurt-Almond Chicken with a Spinach Sauce
Updated February 23, 2016
Cookbook
Published by Workman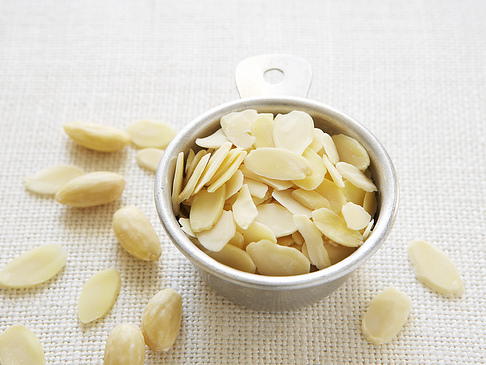 The almonds here help to thicken the sauce as well as providing flavor. The number of chiles in the marinade might alarm you, but never fear: the same almonds come to the rescue to lower the chiles' capsaicin effect.
For a creamier sauce, try sour cream instead of the yogurt as the marinade's base.

You really don't have to grind the whole spices one at a time. Put them all in a spice grinder and pulverize them together for a full-bodied flavor.

Skinning and cutting up a whole chicken is simple, albeit a bit messy. From its cavity remove all the gizzards and innards (these are usually contained in a small paper sack). You can save them for another use. Using one hand, hold the chicken in a squatting position (the chicken, not you) on a firm surface or on a clean, damp dishtowel. With the other hand, firmly peel the skin away from the bird, starting at its neck and moving toward its legs. It's not possible to remove the skin completely from the wings; just remove what you can. Trim off and discard the excess fat. (Some cooks save the trimmed fat and render it for other uses.) To cut the chicken into 8 pieces, I usually start at the legs. Hold the legs clasped together with one hand, and slip the other hand into the neck cavity for leverage. Now wring the chicken, as you would a wet towel, twisting and separating the two halves. Separate the 2 legs and cut each leg in half at the joint, creating thigh and drumstick pieces. Stick your thumb in the neck cavity and pull off the neck bone and cartilage. Slice each breast alongside the breastbone. Cut each breast in half crossways so that one half of the piece has the wing attached to it. You can cut the wing off at the joint if you wish.
Serves6

OccasionCasual Dinner Party
Dietary Considerationegg-free, gluten-free, low carb, peanut free
Taste and Texturecreamy, garlicky, herby, hot & spicy, meaty, nutty, savory, spiced
Ingredients
1 cup plain yogurt
¼ cup slivered blanched almonds
6 lengthwise slices fresh ginger (each 1½ inches long, 1 inch wide, and 1/8 inch thick)
6 large cloves garlic
5 to 7 fresh green Thai, cayenne, or serrano chiles, to taste, stems removed
¼ cup finely chopped fresh cilantro leaves and tender stems
1 tablespoon coriander seeds, ground
2 teaspoons cumin seeds, ground
2 teaspoons coarse kosher or sea salt
½ teaspoon cardamom seeds from green or white pods, ground
½ teaspoon whole cloves, ground
1 chicken (3½ pounds), skin removed, cut into 8 pieces (see Notes)
4 tablespoons canola oil
1 medium-size red onion, cut in half lengthwise and thinly sliced
4 fresh or dried bay leaves
1 bag (5 ounces) fresh prewashed baby spinach leaves
Instructions
2008 Raghavan Iyer
YOUR RECENTLY VIEWED RECIPES