Toasted Cumin-Coriander Blend
Updated February 23, 2016
Cookbook
Published by Workman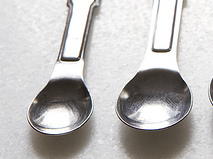 Many of the curries in this book call for this two-spice blend, and you wouldn't think you'd need a recipe for something this simple. However, my students often reveal a slight fear when it comes to toasting spices, so this is a perfect opportunity to reiterate that easy technique. This blend is available in Indian and Pakistani grocery stores, where the spices are often not toasted (because they deal with large volumes of spices, toasting them en masse might not yield best results). In Indian home kitchens, on the other hand, where the blend is made in smaller quantities, the spices are toasted, yielding a nutty quality that is quite crucial to many of our regional curries.

Total Timeunder 15 minutes
Five Ingredients or LessYes
Ingredients
2 tablespoons coriander seeds
1 tablespoon cumin seeds
Instructions
Preheat a small skillet over medium-high heat. Add the whole spices and toast them, shaking the skillet every few seconds, until they start to crackle and turn reddish brown and the aroma is highly nutty-fragrant with citrus undertones, 1 to 3 minutes.
Immediately transfer the spices to a plate to cool. (The longer they sit in the hot skillet, the more likely it is that they will burn, making them bitter and unpalatable.) Once they are cool to the touch, place them in a spice grinder or coffee grinder, and grind until the texture resembles that of finely ground black pepper. (If you don't allow the spices to cool, the ground blend will acquire unwanted moisture from the heat, making the final blend slightly "cakey.") The ground blend will be a deep reddish brown and the aromas will be sweet and complex, very different from those of the pre-toasted and post-toasted whole spices.
Store the masala in a tightly sealed container, away from excess light, heat, and humidity, for up to 2 months. (In my opinion, refrigerating the blend adversely affects its flavors.)
2008 Raghavan Iyer
YOUR RECENTLY VIEWED RECIPES