Shiitake Vegetable Stock
Updated February 23, 2016
Cookbook
Published by Workman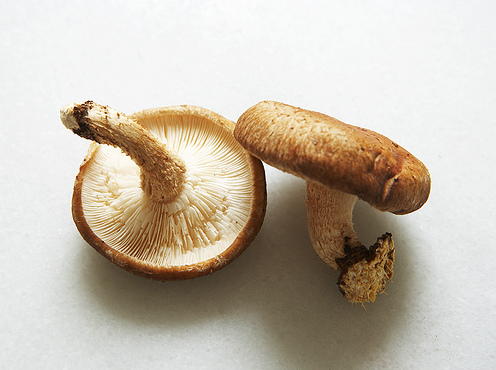 You'll find this vegetable stock to be more full-flavored than most, thanks to the shiitake mushrooms. If you prefer a less earthy taste, substitute white or brown cultivated mushrooms, or leave them out altogether. The fennel bulb adds a mild anise flavor, but it can be omitted if you prefer. In fact, there's no hard-and-fast rule for making a good vegetable stock, except that you should avoid adding strong-flavored or deeply-colored vegetables, such as broccoli, bell peppers, or beets. With the exception of rosemary, which is really powerful, you can substitute whatever other fresh herbs you happen to have on hand to create a vegetable stock of your own.
When you cook with a fennel bulb, save its feathery tops for a delicate garnish.

Note: The fresh tomatoes don't have to be stellar for this vegetable stock to taste good. Don't be tempted to substitute canned tomatoes; they may turn your broth red.

Homemade Stock Tips

While stock values on Wall Street may rise or plunge, the stock in your freezer is always a valuable asset. Here's how to make sure yours turns out full-flavored and nourishing, whether meat, poultry, fish, or vegetable.

Water: Stock is mostly water, so use fresh filtered water or a good-quality bottled mineral water (not distilled water). Never use hot tap water to speed up the cooking process. You'll be using water that has been stored in your water heater, which is great for bathing but not for consuming.

Salt: As a general rule, don't add salt when making stock, especially if you are making stock to use in other recipes. Instead, add the salt when you prepare the final dish. Also, if you need to concentrate the stock by boiling out some of the water, you won't end up with a stock that's full-bodied, but too salty.

Vegetables: Onion skins, unpeeled carrots, and trimmings from other light-tasting vegetables (such as leeks and parsnips) are all good additions for a flavorful stock. You can also add unpeeled garlic and dried or fresh mushrooms. If you're feeling frugal, accumulate vegetable trimmings in the freezer for the day you make stock. Just be sure that the vegetables you add to your stock are well-scrubbed and fresh.

Flesh and bones: Poultry, meat, and fish stocks all benefit from both flesh and bones. Bones give off gelatin that gives stock a rich consistency, and flesh provides flavor. If your stock will be based primarily on bones, look for ones that still have some meat attached. If it's feasible, chop the bones and meat into small pieces so that the flavor will be released more quickly. If you're planning a chicken meal that doesn't require a whole chicken, buy a whole one anyway. Freeze the parts you don't want to eat right away for soup stock.

Simmering: Keep a close watch on the stock, adjusting the heat to maintain a very slow simmer, with bubbles that just barely break the surface. Boiling meat or poultry stock causes the fat to emulsify, making the stock cloudy and greasy tasting.

Quick cooling: To prevent harmful bacteria from developing, it's important to cool stocks that you are not using immediately as quickly as possible, before refrigerating or freezing them. If you have a large pot of stock, divide the stock into smaller containers so it will come to room temperature more quickly. Or even better, use an ice bath to cool down the liquid. Place the strained stock in a clean pot and place the pot in a pan filled with ice water until the stock has cooled down. Stirring the stock occasionally will speed up the process. Don't be tempted to put the hot stock directly into the refrigerator—the heat from the broth could raise the temperature inside the refrigerator to an unsafe level.

Freezing: Freeze stock in a variety of container sizes so you'll have just the amount you need for a recipe. If your freezer space is limited, use quart-size freezer storage bags to create flat frozen packages of stock. Just be sure to seal them carefully! Also, you can freeze stock in ice cube trays for times when a small amount is called for. When the stock is frozen solid, transfer the cubes to freezer storage bags.

Store-bought broths: Canned and boxed broths just don't compare to a flavorful homemade stock, so if a rich stock is the star attraction in a recipe, don't settle for less than homemade. But sometimes a store-bought broth just has to do. When buying broths, select ones that are low in sodium and without such additives as MSG. If you are concerned about the amount of salt you consume, read the labels. You may be shocked at how much salt even "low sodium" stocks have. Also check labels on certified organic broths. They won't have artificial flavors or preservatives, but they may still contain a high percentage of salt. Broth is now available in boxes (called aseptic packages) as well as cans. Overall, boxed broths have better flavor, but there are ecological pros and cons to this packaging. While less energy is used in transporting the light-weight boxes, they are more difficult to recycle than cans. Try several brands of canned and boxed broth to see which suits you best.



Dietary Considerationegg-free, gluten-free, lactose-free, low cholesterol, low saturated fat, peanut free, soy free, tree nut free, vegetarian
Taste and Textureherby, savory
Ingredients
2 medium-size carrots, unpeeled, coarsely chopped
3 celery ribs with leaves, coarsely chopped
1 large leek, both white and light green parts, well rinsed and coarsely chopped
4 cloves garlic, unpeeled
1 small fennel bulb (optional), sliced
2 medium-size zucchini, sliced
1 cup (about 3½ ounces) trimmed and sliced fresh shiitake mushroom caps and stems
1 pound ripe tomatoes (about 5), preferably Roma (plum tomatoes; see Note), cored, seeded, and coarsely chopped
1 bay leaf
¼ cup chopped fresh flat-leaf parsley
2 tablespoons fresh thyme leaves
2006 Myra Goodman
YOUR RECENTLY VIEWED RECIPES