Roasted Medjool Dates Stuffed with Cashews, Currants, and Candied Citrus
Updated February 23, 2016
Cookbook
Published by Bulfinch Press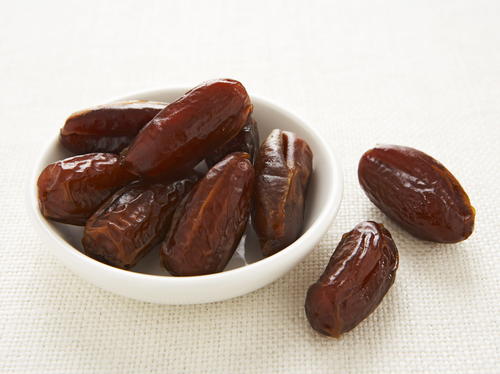 Dates are loaded with natural sweetness, but it is challenging to actually taste their flavor. To bring out the underlying flavor of dates, I like to cook them in a slightly sweet Madeira, a Portuguese fortified wine. The dates in this recipe are just barely infused with Madeira and vanilla, preserving the dates' intrinsic and delectable creamy texture. The candied citrus is a necessary extra step, but candied fruit will last in the refrigerator for months. The filling, with its candied Meyer lemon and kumquats, currants, and cashews, provides an acidic, fruity, crunchy, and nutty counterweight to the richness and sweetness of the dates.
Storage: The stuffed dates will keep, wrapped and at room temperature, for 3 days or refrigerated for 1 week.

Dates: The date tree, incredibly tall, a sponge for water, yet easily chopped down, exists in arid climates producing a tiny calorie-laden fruit that enables people to survive in a desert landscape with depleted food resources and water. Medjool date palms were brought to this country from the Middle East in the 1920s and are currently grown in the hot desert areas of Southern California and Arizona. They are an incredibly labor-intensive fruit to grow and harvest. The trees are tall and have enormous thorns that grow along the trunk. The thorns must be removed so that workers can climb the trunks safely in order to manage the fruit throughout the growing season. Once the trees are de-thorned, they have to be hand-pollinated, because the native middle eastern bee that typically pollinates the flowers does not live here.

Dates grow in enormous clusters, and as they develop into pea-to grape-size fruits, the workers must pick out a third of the underdeveloped fruits to thin the bunches out so that the remaining dates can grow into larger fruits. Because these clusters are still crowded, workers must insert metal rings into the bunches to spread out the fruit and allow air to circulate through and around all the fruit. Date clusters, toward the end of their maturity, are yellow or red, hard and crunchy, sweet yet somewhat astringent, and full of water. In middle eastern countries dates are often picked and sold at this point in their maturity.

"Dried dates" as we know them are allowed to stay on the tree and further ripen. Workers wrap the date clusters with a cheesecloth-like material or cover them with brown bags, which protect the dates not only from birds, some insects, and excess rain or humidity but also from some sun, yielding the unique texture of a fruit matured and "dried" on the tree-moist, creamy, yet slightly wrinkled, chewy, and browned. Unlike other dried fruits, once dates are harvested, there is no further drying process, so they're ready to eat once picked.


Serves12 to 14

OccasionBuffet, Cocktail Party, Formal Dinner Party
Dietary Considerationegg-free, gluten-free, halal, kosher, lactose-free, peanut free, soy free, vegan, vegetarian
Equipmentbaking/gratin dish, food processor
Taste and Texturechewy, crunchy, fruity, nutty, sweet
Type of Dishdessert, fruit
Ingredients
12 to 14 Medjool dates (12 ounces) (see Notes)
1 vanilla bean or 1 teaspoon vanilla extract
½ cup Madeira, medium sweetness
¼ cup sugar
½ cup (2½ ounces) roasted, unsalted cashews
¼ cup (1 ounce) packed currants
1 teaspoon dark rum
1 tablespoon chopped candied kumquat (or candied orange)
1 tablespoon chopped candied Meyer lemon
1 tablespoon candied Meyer lemon syrup
Small glass or metal baking dish large enough to hold the dates in one layer
Food processor or coffee grinder
2006 Kate Zuckerman
YOUR RECENTLY VIEWED RECIPES