Paul's Potato Latkes
Updated February 23, 2016
Cookbook
Published by Workman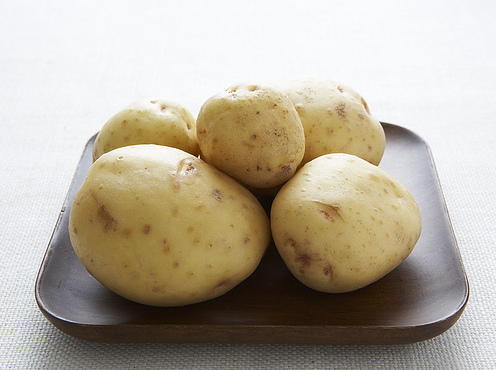 Potato latkes (pancakes) was the one dish Karen's father, Paul Brown, prepared and it was always an event when he did. Since restaurants rarely close for Hanukkah—and it would have been inconceivable for Paul to grate a mountain of potatoes to satisfy our entire staff—I have inherited this all-important Brown family tradition (though I add onions and Paul never did). At Hanukkah and other staff meals they become a main dish accompanied by plenty of sour cream and Spiced Applesauce. Just how much does the staff like them? We keep a running tally at our pancake dinners and compare notes at the end to see how many we've wolfed down. Let's just say the numbers are pretty scary. There's no question that hand-grating the potatoes and vegetables produces a superior texture (that's how we make them at home), but I admit to putting the shredding disk in the food processor and doing them that way when I'm making a great quantity for our staff meal. Another tip: The more water you're able to squeeze from the shredded ingredients, the crispier the latkes will be.
For fresh crumbs: I use soft, fresh bread crumbs to bind together ingredients in dishes where a slightly moist texture is desired. One slice of bread will yield a scant ½ cup of fresh bread crumbs. Use bread with a firm crumb such as a day-old peasant loaf, Italian bread, or as a last resort, a packaged sliced bread like Pepperidge Farm or Arnold. Trim away the crust, tear or cut the bread into pieces, and pulse them in a food processor fitted with the steel blade. Ideally, homemade fresh bread crumbs should be used the day they're made, but no longer than a day or two later. If this isn't possible, they can be frozen in an airtight container, where they will keep indefinitely.

For dry crumbs: To make the best dry bread crumbs, the bread must be perfectly dry. To dry it, arrange the slices in one layer on a baking sheet and place in a preheated 300°F oven until the bread is thoroughly dried out and lightly browned.

For coarse crumbs, break the dried bread into pieces and grind in a food processor fitted with the steel blade.

For fine crumbs, use the processor but fit it with the grating blade.


SERVES4

Total Timeunder 30 minutes
OccasionFamily Get-together
Recipe Courseappetizer, side dish
Dietary Considerationhalal, kosher, peanut free, soy free, tree nut free, vegetarian
Ingredients
4 large Idaho potatoes (about 2 pounds total), peeled
1 small onion, peeled
1 large carrot, peeled
2 large eggs
1 tablespoon chopped fresh flat-leaf parsley leaves
Coarse (kosher) salt and freshly ground black pepper, to taste
1 cup fine dry bread crumbs (see Notes) or matzoh meal, or as needed
Canola oil or melted rendered chicken or duck fat, for frying
Instructions
Preheat the oven to its lowest setting.
Using either the largest holes of a hand-grater or the shredding blade of a food processor, grate the potatoes, onion, and carrot. Place the mixture in a sieve and press to remove as much liquid as possible.
Combine the potato mixture in a large bowl with the eggs, parsley, salt, and pepper. Using your hands or a wooden spoon, mix well. Stir in half of the bread crumbs, then add the remainder slowly, stopping when the mixture is just thick enough to hold its shape, but not so loose that it dribbles off a spoon.
Pour oil or melted rendered fat to a depth of ¼ inch into a large, heavy skillet and heat over medium heat until a tiny drop of the batter sizzles upon contact. Using a 1/3-cup metal measure as a scoop, ladle the batter into the hot oil in the skillet, pressing each mound of batter into a small, flat pancake; do not crowd the skillet. Fry the pancakes until nicely browned on both sides, 4 to 5 minutes per side.
Transfer the pancakes to a platter and keep warm in the oven while you fry the remaining pancakes. Serve immediately.
2000 David Waltuck and Melicia Phillips
YOUR RECENTLY VIEWED RECIPES