Paella with Wild Mushrooms
Updated February 23, 2016
Cookbook
Published by Chronicle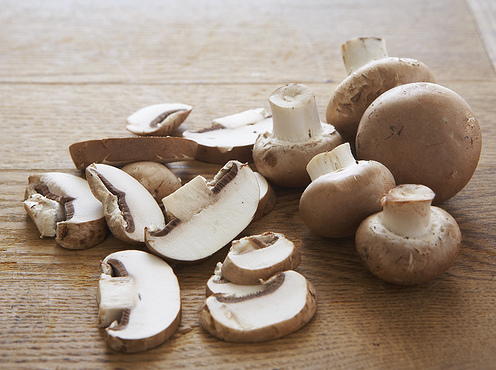 This paella changes each time it's made, depending on what kinds of mushrooms can be found either in the woods or in the market. Autumn offers the largest selection, but spring has its gems (morels!). Choose the freshest mushrooms you can find, preferably a selection of three or four different types. The liquid that the mushrooms expel during cooking is used to help flavor the rice. Be sure to cook them over medium-low heat so that the precious juice isn't evaporated.
To Grate Tomatoes: Simply cut the tomato in half crosswise, and run a finger through the seed cavity, scraping most of the seeds out. Then, cupping the tomato in your hand, slowly grate on a box grater. The skin will gradually peel back as the flesh is grated away, leaving only a flattened skin in your palm. (Discard the skin.) This technique doesn't waste precious pulp. In winter when good, flavorful fresh tomatoes are hard to find, canned whole tomatoes can be used. Strain them, reserving the liquid (to add later to the cooking sofrito), and finely chop.

Mushrooms: Mushrooms are abundant and appreciated in many parts of Spain, including Catalunya and Valencia, where they are routinely collected in the wild. The majority of mushrooms, though, are bought in the market. Some of these are wild, but most have been cultivated. In such meccas as Petràs Fruits del Bose in Barcelona's La Boqueria market, the selection is extensive and changes throughout the seasons.

The list of Spanish favorites that are available in U.S. markets include cèpes, morels, chanterelles, trumpets of death, and white button mushrooms. Other excellent choices include oyster mushrooms, portobellos, and shiitakes. For these recipes, buy whatever is freshest and looks the best in the market.

How and even whether to clean mushrooms always causes debate. Llorenç Petràs, the owner and namesake of the famed La Boqueria stall, recommends simply brushing or wiping off mushrooms found in the forest and washing those bought in the market. To wash, drop them into a sink full of cold water, swish them around (the grit will sink), change the water, and repeat the process a couple of times. Don't let mushrooms soak in water or wash them too long before using.

The mushrooms are cooked first in a separate pan and then added to the rice just before it is done. One technique I learned from Petràs is cooking the mushrooms over moderately low heat so that moisture is expelled but isn't immediately evaporated. The liquid is later added to the rice. The cooking time varies, depending on the type of mushroom, but as a general rule cook them slowly for around 5 minutes until the liquid has been expelled, then drain it off and reserve. Increase the heat and quickly sauté the mushrooms for 2 minutes to give the edges a brown tint and sweeter flavor.

Saffron Threads Preparation: Saffron is a defining element of paella. It brings its characteristic warm and fresh aroma, and, significantly, tints the rice a delicate golden color. It is the world's most expensive spice. Cultivation is a delicate process, collecting is difficult, and it takes some 70,000 flowers to yield a pound of saffron. Introduced into Spain around A.D. 900 by Arab traders, it was cultivated in Spain by A.D. 960. (The Spanish word for saffron, azafrán, comes from the Arabic za'faran.) Saffron is largely grown in the central La Mancha region, whose extreme conditions--hot summers, cold winters--are ideal for giving strength to the color and pungency to the aroma. La Mancha is a registered denominación de origen; look for the "D.O. Azafrán de la Mancha" label. Buy only threads and not powder, which may have been adulterated.

To draw out saffron's full culinary potential, the threads need to be slightly toasted and crumbled before they are added to a rice dish. Toast the threads in a small dry skillet over low heat for a few minutes until they turn a shade darker. Remove them immediately, and then either crumble them in a small piece of paper or pound them in a mortar. If using a mortar, be sure to swirl a bit of water around inside after pounding to get every last bit of saffron dust.

Most restaurants, and many home cooks, use a powdered colorante (usually a mix of cornstarch, salt, and yellow dye) to give their paella the dish's characteristic golden color. Though eschewed by purists, colorante does not carry a heavy stigma in Spain and its use is not generally looked down upon around most tables. Colorante gives the rice an artificially bright yellow tone. Do not try to make a paella yellower by simply adding more saffron. Too much saffron can give the rice a bitter, almost medicinal flavor. Two pinches of good-quality threads--20 to 30 total--is enough for a paella for 6.


Serves6

OccasionCasual Dinner Party, Formal Dinner Party
Dietary Considerationlactose-free, low cholesterol, low saturated fat, peanut free, soy free, tree nut free, vegan, vegetarian
Taste and Texturegarlicky, savory, umami
Ingredients
6 tablespoons extra virgin olive oil
4 ripe medium tomatoes, peeled, seeded, and finely chopped or coarsely grated (see Notes)
Salt
1 pound assorted wild mushrooms, cleaned (see Notes) and cut into pieces if caps are larger than 2 inches
2 garlic cloves, finely chopped
1 teaspoon sweet pimenton
2 pinches saffron threads (about 20 total), lightly toasted and ground (see Notes)
7 cups Vegetable Stock or Chicken Stock
3 cups short or medium grain rice
Instructions
2006 Jeff Koehler
YOUR RECENTLY VIEWED RECIPES