My Family's Favorite Hot Chocolate
Updated February 23, 2016
Cookbook
Published by Hyperion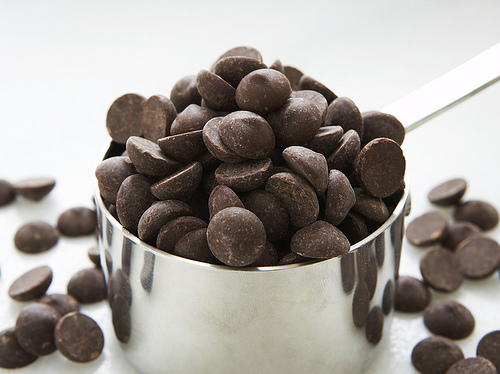 There are some days—and some moods—when hot chocolate is just simply the answer. And there might not even have been a question! This recipe hits that indescribable spot.
Soy milk–or a combination of milk and cream–can be substituted for the milk.

A BIT OF HOT CHOCOLATE HISTORY

Introduced to Europe by the Spanish conquistadores— who had been served this mysterious elixir by the Aztecs in the New World—hot chocolate became the drink of the European elite. This fad lasted until the Industrial Revolution, when Europe's leisure class dwindled and a business class arose, requiring a stronger dose of caffeine to begin the day. Coffee and tea then replaced chocolate as the prevailing morning beverage, and hot cocoa was relegated mostly to children. Several centuries later, this rule has been greatly relaxed, and chocolate is now a universally acceptable breakfast option for people of all ages.

WHY DOES A SKIN FORM ON HEATED MILK?

That skin on your hot milk is actually a protein called casein, which evaporates and dries out on the hot Surface of the milk. As you may have noticed, removing the skin while the milk is still heating doesn't do much good, since another layer will soon appear in its place. That's a good reason not to bother. Here's an even better reason to leave it alone: The casein is very nutritious, and every time you skim off a layer, you are removing some of the protein from the milk. Food scientist Shirley Corriher, in her very entertaining and informative book Cookwise, suggests and inspired solution to this dilemma: "With hot chocolate, the simplest solution is to add marshmallows, which melt on the surface. They contain an egg white foam and gelatin, which coat the surface and prevent the casein from drying." On behalf of all of us who harbor a secret passion for marshmallows on our cocoa, I want to thank Shirley for this permission!


2 servings (easily multiplied)
Preparation Time - Text10 minutes

Total Timeunder 15 minutes
Five Ingredients or LessYes
Taste and Texturechocolatey, creamy, rich, sweet
Type of Dishnon-alcoholic beverage
Ingredients
¼ cup semisweet chocolate chips
1 teaspoon sugar
3 cups milk
A pinch of salt
¼ teaspoon vanilla extract
Whipped cream
Cinnamon
Instructions
2002 Tante Malka, Inc
YOUR RECENTLY VIEWED RECIPES