Mushroom-Barley Soup
Updated February 23, 2016
Cookbook
Published by Workman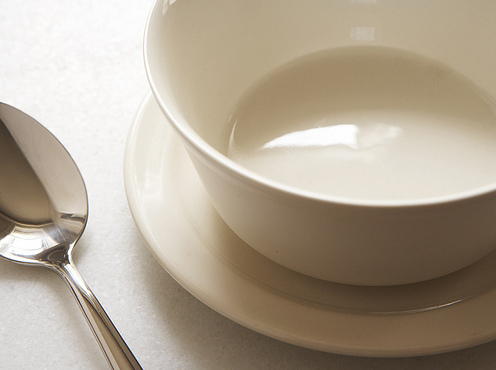 Like many chefs, I have vivid childhood memories of my mother in her kitchen, and to this day I still remember how she prepared mushroom-barley soup. Compared to other dishes I watched her make, the whole process of making this particular soup seemed much more elaborate, like a ritual.
She made the soup the way they do in Jewish dairy restaurants, using for the broth the strained water she had soaked the mushrooms in, rather than adding meat stock. I recall watching, fascinated, as she made a brown roux, adding flour to butter, cooking it until it was quite dark, then using it to enrich and thicken the meatless soup. As for mushrooms, she used Polish dried mushrooms, even though they were expensive. They're hard to find these days, so I use dried porcini mushrooms imported from Italy, and for added flavor, I also use Chicken Stock though this obviously makes the soup nondairy.
I rinse reconstituted dried porcinis because I find they're still likely to have some grit. This is not true of shiitakes.

Bizarre Breakfasts

To my way of thinking, breakfast is a state of mind rather than a traditional morning meal. I don't have anything against morning per se; I just don't especially like most breakfast foods. In fact, I'll eat virtually anything in the morning rather than face a bowl of cereal, a bagel or muffin, or bacon and eggs. I love a bowl of cold noodles in the morning, for example, or a meat loaf sandwich garnished with Cider Vinegar Slaw or leftover Cooked Spinach Salad with Soy and Sesame. And practically any warm soup tastes good, though I have to say I'm very partial to Mushroom-Barley and Chicken Soup with Fresh Herbs.
SERVES8 AS A MAIN COURSE

Recipe Courseappetizer, main course
Dietary Considerationegg-free, peanut free, soy free, tree nut free
Taste and Texturenutty, rich, savory, umami
Type of Dishhot soup, soup
Ingredients
4 ounces dried porcini mushrooms
4 cups very warm water
2 medium leeks
3 tablespoons unsalted butter
2 carrots, peeled and cut into ¼-inch dice
2 medium onions, cut into ¼-inch dice
1 small clove garlic, minced
2 tablespoons all-purpose flour
10 cups Chicken Stock or canned low-sodium chicken broth
2 bay leaves
½ cup pearl barley
Coarse (kosher) salt and freshly ground black pepper, to taste
Instructions
Place the porcinis in a bowl and cover with the water. Let soak at room temperature for 30 minutes to soften.
Trim away and discard all but ½ inch of the green part from the leeks. Split the leeks lengthwise and rinse them well under cold running water to remove the grit. Drain and cut into ¼-inch dice.
Melt the butter in a medium-size saucepan over medium heat. Add the carrots, onions, leeks, and garlic. Sauté, stirring occasionally, until the onions and leeks are wilted and very lightly browned, about 10 minutes. Stir in the flour and cook, stirring constantly, for 5 minutes. The flour may brown slightly. Whisk in the chicken stock and increase the heat to high.
While the soup comes to a boil, lift the mushrooms from the soaking liquid with a slotted spoon and set aside. Strain the liquid into the soup through a strainer lined with several layers of cheesecloth and continue to bring to a boil. Add the bay leaves.
Rinse the soaked mushrooms and remove and discard any hard or gritty parts (see Notes). Chop the mushrooms coarsely and add them to the soup. Add the barley and simmer, uncovered, stirring occasionally, until the barley is tender, about 45 minutes. Remove and discard the bay leaves. Season with salt and freshly ground pepper and serve.
2000 David Waltuck and Melicia Phillips
YOUR RECENTLY VIEWED RECIPES