Iowa Pork Chops With Maytag Blue Cheese Butter
Updated February 23, 2016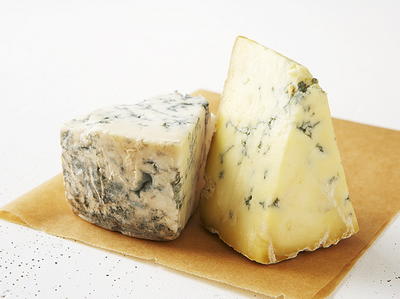 The Hawkeye State produces fine cattle, but as the locals know, the real specialty here is pork. An Iowa pork chop is everything you want a chop to be: generously marbled, bible thick, with a rich, meaty flavor that just doesn't quit. My colleague, Iowa-based food editor Nancy Byal, likes to pair the hometown pork with another Iowa specialty: Maytag Blue. This is a semifirm, pleasantly creamy blue cheese from the town of Newton, and its brisk flavor has more than a passing kinship with fine European blues, like Cabrales or Stilton. Put Iowa pork and Maytag Blue together and you get a quick and easy pork dish.
Method: Direct grilling

Toasted Walnuts

To toast nuts or seeds, heat a dry cast-iron skillet over medium-high heat until hot, 3 to 5 minutes. (You must use a heavy skillet for this; do not use a nonstick one.) Add the nuts or seeds and cook over medium-high heat until fragrant and lightly browned (walnuts will take 3 to 4 minutes to brown lightly), shaking the pan to ensure even toasting. Immediately pour the nuts or seeds into a shallow heat-proof bowl and let cool.
Serves4

OccasionCasual Dinner Party, game day
Taste and Texturebuttery, cheesy, meaty
Ingredients
4 tablespoons (½ stick) unsalted butter, at room temperature
1 ounce Maytag Blue cheese, crumbled, at room temperature
1 tablespoon chopped toasted walnuts (see note)
1 tablespoon thinly slivered fresh basil
Coarse salt (kosher or sea) and freshly ground black pepper
4 bone-in pork loin chops (each about 1¼ inches thick and 8 to 10 ounces)
2 cloves garlic, cut in half crosswise
Coarse salt (kosher or sea) and freshly ground black pepper
Instructions
Make the blue cheese butter: Place the butter and blue cheese in a mixing bowl and mash together with a fork. Stir in the walnuts and basil and season with salt and pepper to taste (add just a little salt; the cheese is already quite salty). The blue cheese butter can be kept refrigerated, covered, for 5 days or frozen for 3 months.
Set up the grill and preheat to high.
When ready to cook, rub both sides of each pork chop with a half clove of garlic, then season the chops generously with salt and pepper. Brush and oil the grill grate. Place the chops on the hot grate and grill until cooked through, 6 to 8 minutes per side. When ready to turn, the chops will be nicely browned on the bottom. To test for doneness, use the poke method; the meat should be firm but gently yielding. Or insert an instant-read meat thermometer sideways into a chop: The internal temperature should be about 160°F.
Transfer the grilled chops to a platter or plates and let rest for 2 minutes. Top each with a dollop of the blue cheese butter and serve. yield:
2003 Steven Raichlen
YOUR RECENTLY VIEWED RECIPES