Homemade Matzoh Balls
Updated February 23, 2016
Cookbook
Published by Workman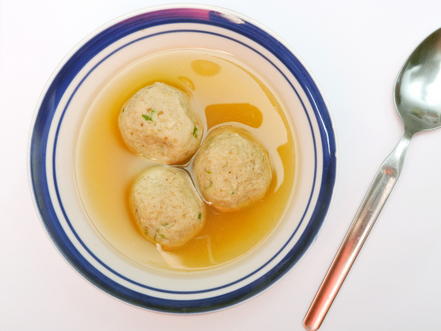 This is the matzoh ball recipe I make at home for my family and at the restaurant for staff meals. Sometimes I cheat a bit by adding just a little baking powder to the mixture to make it lighter and airier, but, of course, you wouldn't do this if the matzoh balls were to be served during Passover. I once transformed these simple little dumplings into an unexpected and luxurious treat on the menu at Chanterelle, adding lots of chopped black truffles to the mixture and forming elegant miniature matzoh balls to set afloat in cups of chicken consommé. To make this fancier version for a special occasion, just add as much chopped black truffle as you can afford to this recipe.
If you make roast chicken or chicken stock fairly often, it takes little extra effort to have a supply of rendered chicken fat (schmaltz) on hand for use in recipes such as chopped chicken liver and borscht. There's always surplus fat to be trimmed from whole chickens, especially from the neck, body cavity, and tail areas. I save the bits of fat in the freezer, adding to my cache until I have at least a cup or two. To render fat, defrost it slightly, cut into ½- or 1-inch pieces, and place them in a heavy skillet or saucepan over low heat. Add about ¼ cup water (to prevent the fat from sticking) and cook gently, stirring occasionally, until the fat has liquefied and the solids have shrunk and become crispy brown bits, about 10 to 15 minutes. Let the fat cool slightly before straining it through a finemesh strainer into a storage container with a tight-fitting cover. (In Yiddish the crunchy pieces left behind are called gribenes, and in the old days before cholesterol was declared the enemy they were considered quite a treat.) Store rendered fat in the refrigerator for a month or in the freezer for up to a year. To render duck or goose fat, follow the same procedure.
MAKES1 DOZEN 2½- TO 3-INCH MATZOH BALLS

OccasionFamily Get-together
Dietary Considerationkosher, lactose-free, peanut free, soy free, tree nut free
Five Ingredients or LessYes
Taste and Textureherby, light, savory
Ingredients
2 large egg yolks
¼ cup rendered chicken fat (see Notes), melted but not hot
½ cup warm Chicken Stock or canned low-sodium chicken broth
¾ to 1 cup matzoh meal
½ teaspoon baking powder (optional)
2 tablespoons grated onion
1 tablespoon chopped mixed fresh herbs, such as flat-leaf parsley, dill, and chervil leaves
½ teaspoon kosher salt
¼ teaspoon coarsely ground black pepper
3 large egg whites
5 quarts Chicken Stock, water, or a combination of both
Instructions
Combine the egg yolks and chicken fat in a large bowl and beat with an electric mixer on medium speed until thickened. Add ½ cup warm chicken stock and continue beating. Mix in the matzoh meal, baking powder (if desired), onion, herbs, salt, and pepper. Set aside.
In a medium-size bowl using clean beaters, beat the egg whites with the mixer at medium-high speed until they reach soft peaks. Using a rubber spatula, fold the whites gently but thoroughly into the matzoh mixture, then refrigerate, covered, for 1 hour.
Place the chicken stock in a large stockpot and bring to a boil over mediumhigh heat.
Use your hands to roll the matzoh mixture into balls slightly smaller than a Ping-Pong ball (matzoh balls expand as they cook). When the stock is boiling, reduce the heat and carefully lower the matzoh balls into the liquid. Poach the matzoh balls in the simmering stock until they float to the surface, 15 to 20 minutes. Remove them from the stock and keep warm until you're ready to serve. If you're making them a day in advance, transfer the matzoh balls to a storage container and refrigerate, covered, until you're ready to reheat them in the soup.
2000 David Waltuck and Melicia Phillips
YOUR RECENTLY VIEWED RECIPES