Fresh Egg Pasta 
Updated February 23, 2016
Cookbook
Published by Houghton Mifflin Harcourt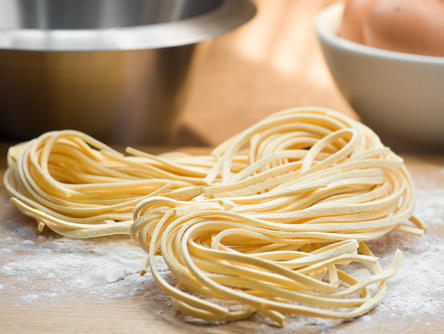 Here is a basic all-purpose pasta dough that I use for fettuccine, lasagne, and ravioli. The dough can be assembled by hand, in a food processor, or in a heavy-duty mixer, and it can be rolled out on a board with a rolling pin or in a pasta rolling machine. If you have never made pasta before, read the recipe through before beginning. The most important thing is to get the balance of flour and eggs right so that the dough is neither sticky nor dry. Because the freshness and size of the eggs and the type and humidity level of the flour vary slightly, it is not possible to give exact proportions.
Tips for Making Fresh Pasta:

It takes practice to get the knack of making pasta, but once you have the feel for it, it is not difficult. Make pasta when you have plenty of time, and don't be disappointed if the first batch doesn't come out right.

1. If possible, make pasta on a dry day. However, avoid making fresh pasta near a hot stove or radiator or near a fan. The heat and breeze may dry the pasta out too quickly.

2. A pasta machine is very helpful if you enjoy making fresh pasta and want to do it frequently. The most familiar machine is hand-cranked. It kneads, stretches, and cuts pasta dough perfectly. Most machines come with a variety of cutting attachments, but all you need are a fettuccine and tagliarini cutter. Buy a wide machine that feels heavy for its size. Smaller machines are flimsy and hard to handle. If you have a heavy-duty mixer, you may be able to purchase a pasta attachment for the mixer. I have one for my heavy-duty Kitchen Aid mixer that works very well.

3. Avoid the type of pasta maker that combines all the ingredients and extrudes them through a die (metal cutting mold). It makes poor-quality pasta.

4. Flour quality varies according to the weather and how, where, and how long it has been stored. Be prepared to adjust the amount of flour needed.

5. Eggs vary in moisture content and lose moisture through their shells as they age. If they have been stored for a while, they may be slightly drier than fresh eggs. I have used large eggs for all of the recipes in this book. If you use another size egg for making pasta, you may need to adjust the amount of flour accordingly.

6. When saucing fresh pasta, use just enough sauce to coat the pasta without leaving a pool of sauce in the bottom of the bowl. I have given quantities with each recipe, but consider these suggestions. The amount really depends on the type of sauce, how thick it is, and other factors.

Storing Fresh Egg Pasta:

Fresh pasta may be used immediately, frozen, or allowed to dry completely. To freeze the pasta, place the strips on baking sheets lightly dusted with flour so that they do not touch. Place the baking sheets in the freezer. When the pasta is firm, gently gather it into a bundle and wrap it well in layers of plastic wrap or foil. Store in the freezer up to one month.

To dry, place the pasta strips, not touching, on baking sheets. Cover each sheet with lightweight cloth kitchen towels. Do not cover them with plasticor foil or they will turn moldy. Leave the strips at room temperature for several days until the pieces are completely dry and snap when broken. Store in plastic bags in the pantry until ready to use.

Dietary Considerationvegetarian
Equipmentelectric mixer, food processor, pasta maker
Five Ingredients or LessYes
Ingredients
About 2½ cups unbleached all-purpose flour
4 large eggs, beaten
1 teaspoon olive oil (optional, but a good idea, especially for stuffed pastas)
Instructions
2004 Michele Scicolone
YOUR RECENTLY VIEWED RECIPES