Fish with Ginger-Scallion Sauce
Updated February 23, 2016
Cookbook
Published by Workman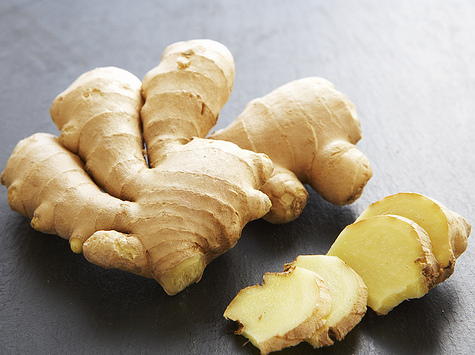 Here's a simplified version of one of the dishes that Karen and I most enjoy ordering at Thai restaurants. The gingery sauce is typically served over a whole fish that has been slashed to the bone with a sharp knife, then fried in oil until it's so extravagantly crisp you can practically eat the crunchy bones. Amazingly, however, the flesh remains wonderfully moist. For our staff meal, I usually serve the sauce with sautéed fish fillets, which are easier and faster to prepare. As a special treat, try the sauce with soft-shell crabs, since their crispy exterior and soft interior are similar in texture to those of the whole fried fish.
Pungent, peppery, and slightly sweet, ginger is one of the most extensively used flavorings in Asian cooking. There are two types of ginger, mature and young. Mature ginger is easy to find yearround in almost all supermarkets. Select firm, plump knobs with taut, unwrinkled, pale tan skin that's shiny. Avoid any that are soft or wrinkled, and bear in mind that the older the ginger, the more fibrous it will be.

Young ginger, also called stem or spring ginger, is a special treat available only twice a year, in January and February and again in July and August. Look for it in Asian markets. In contrast to mature ginger, harvested at around 10 months, tender young ginger is only 3 to 4 months old and is more perishable. It's juicy and pungent, though not as spicy and sharply flavored as mature ginger, so you'll need to use more of it in a recipe. Young ginger is lovely looking, with pale yellow skin that is paper thin to the point of translucency and rosy pink tips at the end of the knobs. No peeling is necessary.

To store ginger, wrap the knobs in paper towels (to absorb moldinducing moisture), place in a loosely closed plastic bag, and refrigerate for up to 3 weeks in the vegetable drawer.
SERVES4

OccasionCasual Dinner Party
Dietary Considerationegg-free, lactose-free, peanut free, tree nut free
Taste and Texturecrisp, juicy, light, salty, savory, umami
Ingredients
8 dried shiitake mushrooms
2 cups Chicken Stock or canned low-sodium chicken broth
¼ cup sugar
1/3 cup rice vinegar or cider vinegar
2½ tablespoons oyster sauce
2 tablespoons good-quality soy sauce, such as Kikkoman
1 tablespoon fresh lime juice
1 tablespoon Thai fish sauce (nam pla)
1 tablespoon cornstarch
2 tablespoons cold water
1 teaspoon hot red pepper flakes
1½ tablespoons grated fresh ginger
1 medium onion, sliced lengthwise
1 small red bell pepper, stemmed, seeded, and cut into thin strips
3 scallions, white and green parts, trimmed and cut into ¼-inch lengths
1 cup all-purpose flour, for coating the fish
4 mild white fish fillets (about 8 ounces each), such as red snapper, flounder, or bass
2 tablespoons canola or other vegetable oil
Kosher salt, to taste
Instructions
Place the shiitake mushrooms in a small bowl with very hot water to cover. Let soak for 30 minutes to soften. Lift the mushrooms from the soaking liquid, leaving the grit behind. Trim away any stems and slice the caps. Strain the soaking liquid through a strainer lined with several layers of cheesecloth and add to the saucepan in step 2.
Combine the chicken stock, shiitakes, sugar, vinegar, oyster sauce, soy sauce, lime juice, and fish sauce in a small, nonreactive saucepan and bring to a boil over high heat. Reduce the heat to low and simmer, uncovered, until the flavors have blended, about 20 minutes.
Whisk the cornstarch with the water to blend. When it's smooth, whisk it into the sauce, whisking constantly until the sauce thickens, 1 minute. Add the pepper flakes and ginger and simmer for 1 minute more. Add the onion, bell pepper, and scallions and cook just until heated through, another 1 to 2 minutes; the vegetables should still be very crisp. Remove from the heat and taste for seasoning. Keep warm while you prepare the fish.
Spread the flour on a plate and dip the fish fillets, one at a time, in it to coat on both sides, shaking off any excess.
Heat the oil in a large skillet over medium-high heat. Sprinkle the fish fillets lightly with salt, then add them to the skillet. Sauté until lightly browned and cooked through, 2 to 3 minutes per side.
Transfer the fillets to a platter or individual plates and spoon the sauce over them to serve.
2000 David Waltuck and Melicia Phillips
YOUR RECENTLY VIEWED RECIPES