Corn-Leek Cakes with Caviar, Smoked Salmon and Crème Fraîche
Updated February 23, 2016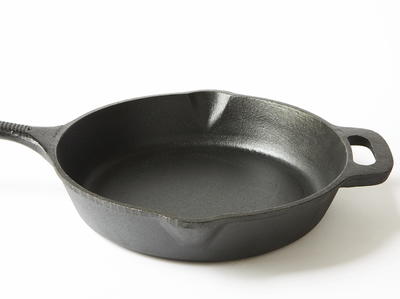 These delicate mini corn cakes look especially inviting on a large round platter decorated with watercress or dill sprigs and, if available, tiny white corn on the cob. They are the perfect way to start a formal dinner.
Serve a soft, off-dry Johannesberg riesling or a crisp Alsatian white. If you are feeling more festive, a snappy blanc de blanc or brut champagne would be lovely.

Advance Preparation: The batter may be made up to 1 day in advance and refrigerated. The corn cakes may be cooked up to 2 hours ahead and kept warm in a very slow oven. Remove the paper-towel liner before placing the cakes in the oven for reheating.

OccasionCocktail Party, Formal Dinner Party
Recipe Coursehors d'oeuvre
Equipmentblender, food processor
Taste and Texturecreamy, crisp, salty, savory, smoky, sweet
Type of Dishcanape/crostini
Ingredients
1 cup corn kernels (from about 2 medium ears)
½ cup (1 stick) unsalted butter
2 medium leeks, white part only, very finely chopped
1 cup half and half
2 eggs
Salt and freshly ground white pepper
½ cup fine yellow cornmeal
½ cup all-purpose flour
½ cup creme fraiche
2 ounces caviar
2 ounces smoked salmon, cut into small pieces
Fresh dill or watercress sprigs
Instructions
Place the corn kernels in a food processor and pulse just until coarsely chopped. Set aside.
In a medium skillet over medium heat, melt ¼ cup of the butter. Pour off 2 tablespoons and reserve. Add the leeks to the skillet and sauté until softened, about 10 minutes. Set aside.
In a blender, combine the half-and-half, eggs, reserved melted butter, and salt and pepper to taste. Blend until mixed. Add the cornmeal and flour and blend until a smooth batter forms. Add the coarsely chopped corn and sautéed leeks and blend just until mixed.
Melt the remaining ¼ cup butter in a large nonstick skillet or on a griddle over medium heat.
Using a small ladle or measuring cup with a pouring spout, pour about 1 tablespoon of the batter into the skillet for each cake. Do not crowd the pan. Cook until the cakes bubble and are just set, about 2 minutes. Then flip the cakes and cook for another minute. Turn out onto a paper-towel-lined baking sheet to absorb any excess oil. Keep warm. Repeat until all are cooked.
To serve, place the cakes on a large serving platter and garnish each with a dollop of crème fraîche, caviar, a small piece of salmon, and a small sprig of watercress or dill. Serve immediately
2000 Diane Rossen Worthington
YOUR RECENTLY VIEWED RECIPES