Chicken Breasts Sautéed in Butter
Updated February 23, 2016
Cookbook
Published by Knopf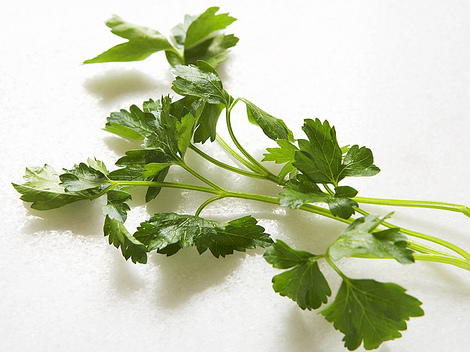 Here the chicken breasts are lightly dusted with flour and are sautéed in clarified butter. (Ordinary butter will burn and form black specks on the suprêmes. Clarified butter may be heated to a higher temperature before burning.) A good accompaniment for this dish would be grilled or stuffed tomatoes, buttered green peas or beans, and potato balls sautéed in butter. Serve with it a red Bordeaux-Médoc.
Information & Preparation of Supremes (Chicken Breasts) Breast of chicken when it is removed raw from one side of the bird in a skinless, boneless piece is called a suprême. Each chicken possesses two of them. If the upper part of the wing is left on, the suprême becomes a côtelett. The breast of a cooked chicken is not a suprême, but a blanc de poulet, or white meat of chicken. A suprême may be poached in butter in a covered casserole a blanc, or sautéed or broiled with butter a bruno It is never, in good French cooking, simmered in a liquid. The suprême is an easy morsel to cook, but attention must be exercised to be sure it is not overdone, as even a minute too much can toughen the meat and make it dry. The flesh of a perfectly cooked suprême is white with the faintest pinky blush, its juices run clear yellow, and it is definitely juicy. Its point of doneness is easily determined as it cooks. Press the top of it with your finger; if it is still soft and yields slightly to the touch, it is not yet done. As Sognas the flesh springs back with gentle resilience, it is ready. If there is no springiness, it is overcooked. As a suprême cooks in only 6 to 8 minutes and may be served very simply, it can make an exquisite quick meal.

PREPARING THE SUPRÊMES FOR COOKING Choose whole or half breasts from a 2½- to 3-lb. fryer. Slip your fingers between skin and flesh, and pull off the skin. Then cut against the ridge of the breastbone to loosen the flesh from the bone. Disjoint the wing where it joins the carcass and continue down along the rib cage, pulling flesh from bone as you cut until the meat from one side of the breast separates from the bone in one piece. Remove the wing. Cut and pull out the white tendon that runs about two thirds of the way down the under side of the meat. Trim off any jagged edges and flatten the suprêmes lightly with the side of a heavy knife. They are now ready for cooking. If they are not to be used immediately, wrap in waxed paper and refrigerate.
For4 people
Cooking Methodpan-frying, sauteeing

Total Timeunder 30 minutes
OccasionFamily Get-together
Dietary Considerationpeanut free, soy free, tree nut free
Taste and Texturebuttery, crisp, meaty, savory
Ingredients
4 suprêmes (boned chicken breasts from 2 fryers; see Notes)
¼ tsp salt
Big pinch of pepper
1 cup flour spread on an 8-inch plate
6 to 8 Tb clarified butter (note that you will need ¼ cup more for your sauce)
4 Tb clarified butter
3 Tb minced parsley
1 Tb lemon juice
An 8- to 9-inch skillet and a hot platter
1961, 1983, 2001 Alfred A. Knopf
YOUR RECENTLY VIEWED RECIPES